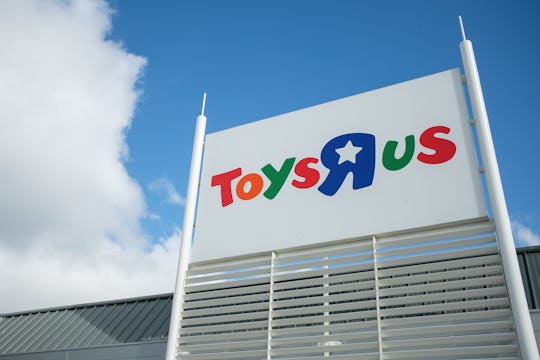 Leon Neal/Getty Images News/Getty Images
Got Any Toys "R" Us Coupons Laying Around? Here's What Still Works & What Doesn't
News of Toys "R" Us closing rocked the parenting world this week, leaving many wondering how soon the store would officially shutter. It's all happening fast. Store closure notices have already been filed and those take about 60 days to go into effect, reported CNN Money. So we have approximately 2 months left to stock up on baby goods (yes, sadly, Babies "R" Us is also going bye-bye). If you are a coupon clipper, you may be wondering, "What happens if I have a Toys "R" Us coupon?"
Gift cards are valid for the next 30 days, according to FOX 8, while Toys "R" Us rewards points can be used until Wednesday, March 21, a Toys "R" Us rep says to Romper in an email. Toys "R" Us store coupons specifically will not be accepted at closing stores, according to the Toys "R" Us website. However, the site notes a few exceptions: giveaways, Birthday Club coupons, rewards redemption coupons, registry completion coupons and instant Credit Thursdays will be accepted.
But in reality, coupons are probably a moot point anyway. Both Toys "R" Us and Babies "R" Us are starting to run liquidation sales, that are predicted to grow in size the closer to the final door closing, reported The Washington Post. If you shop now, you may score 25 percent off, but if you wait another few weeks you could get crazy big discounts. It's a gamble though because if you wait, you never know if the items you have your eye on we'll still be available. It also should be noted that all liquidation sales will be final, according to the Toys "R" Us website.
What else do you need to know about the Toys "R" Us or Babies "R" Us impending store closings? If you have an item already on layaway, you will be notified by the store to pay it off, pick it up, or open the layaway at a different store, according to the store's website. "If layaway items are not picked up by the deadline, we will cancel your order and waive any applicable fees. Deadlines will vary by location," explained the store closing FAQ section.
Additionally, the store's "Price Match Promise," (i.e. if you found an item advertised for cheaper elsewhere, they would match the lower price) will no longer be in effect at closing stores.
With the liquidation sales about to go down, you're probably already making plans to stock up on baby or kid essentials and your family's Christmas presents for the next three years! Yet, when I went on the store's website to do a little Easter shopping, I didn't find the massive deals I was expecting. A Little Tikes Spiralin' Seas Waterpark I had my eye on was still priced higher than what I could get it for on Amazon, as was a Slumberjack Sleeping Bag - Scout Girl. Granted, this was my small sampling (I hope you can find better deals) but I was surprised that I wasn't getting the mega savings I had anticipated.
Perhaps therein lies Toys "R" Us's problem in a nutshell. While I may have loved going to the "magical" store when I was a little girl for the experience it offered, today as a mom, I'm Amazon Priming pretty much everything for the convenience of being able to shop in my pajamas after the kids are in bed. Plus, when you're cutting it close like I do for almost every holiday, Prime's free 2-day shipping is everything.
Although, it seems Amazon wasn't the sole cause of the Toys "R" Us demise. The company made some pretty serious missteps for years. "...Much of the chain's resources were devoted to paying off that massive debt load rather than staying competitive," reported CNN Money.
I guess this is goodbye, Toys "R" Us, but thanks for the memories!
Check out Romper's new video series, Bearing The Motherload, where disagreeing parents from different sides of an issue sit down with a mediator and talk about how to support (and not judge) each other's parenting perspectives. New episodes air Mondays on Facebook.