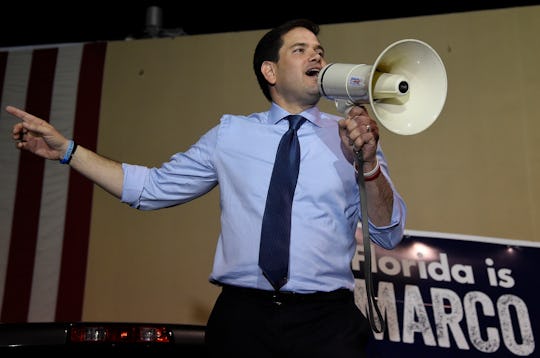 RHONA WISE/AFP/Getty Images
What Happens If Marco Rubio Loses Florida? He Doesn't Seem To Be Planning On Leaving The Race Any Time Soon
The results of the Mega Tuesday primaries will mean that most of the 2016 presidential candidates will need to reassess their strategic moves over the next few days. But what happens if Florida Sen. Marco Rubio loses Florida? Even before the returns starting coming in, the senator seemed concerned about losing in his home state, but will a defeat in his home state mean he'll be dropping out?
Rubio started off the week in West Palm Beach addressing in front of a group of supporters what he saw were mistakes in his recent campaigning — most notably his head to head scuffles with frontrunner Donald Trump. Rubio apologized to anyone he might have disappointed when he responded to Trump's ad hominem attacks, specifically about the size of his ears and "something else."
"I responded in kind with an attack about — I'm not going to repeat it — stuff," Rubio said. "I realized that win or lose, there are people out there that see what I'm doing and follow it as a role model."
Despite the late apology, it seems that Rubio is almost destined to lose Florida. And by a lot. A recent Quinnipiac University poll released on Monday has the candidate with just 22 percent of the vote in Florida. That is not good for such an important swing state. Politico reported on Tuesday that it would take a "miracle" for Rubio to pull ahead. His campaign even urged voters to skip their sammie over lunch to go vote.
Despite the grim predictions, Rubio seems to be crossing his fingers for a win anyway, much like Vermont Sen. Bernie Sanders defied polls and exit surveys in Michigan last week. In an interview with WBDO radio, Rubio said that he plans to head straight to Utah to campaign, whether he takes Florida or not. According to Buzzfeed News, Rubio was well aware he might not head out victorious, telling WBDO,
Tomorrow our plan is to be in Utah campaigning irrespective of tonight. It would be a lot better to go to Utah being the winner of the Florida primary. It would give us a tremendous amount of momentum. It would give us 99 delegates, and that's the way we want to do it tonight.
If he does eventually have to drop out after this next round of primaries, Rubio is still not sure who he would endorse. In the same radio interview, he repeated that he finds the other Republican candidates to be "unacceptable." He said he would of course support the eventual Republican nominee but that it would be difficult for him, especially if it were Trump.
It can't be a good feeling to lose in your hometown, but the Rubio team seems intent on sticking it out. And in a race as contentious as this one, maybe they're right to wait around and see what happens. Anything can happen, right?