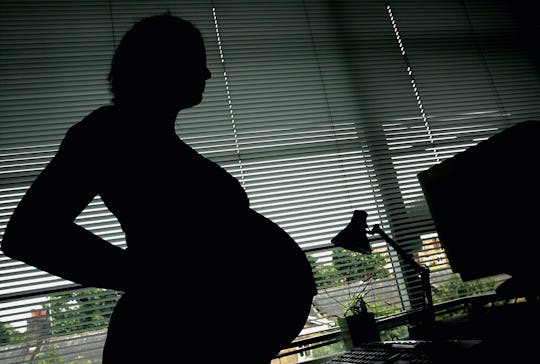 Daniel Berehulak/Getty Images News/Getty Images
What You Need To Do If You Lose Your Job While Pregnant
Losing your job or getting laid off at any point in your life is a stressful and horrible situation to be in. But if you get this type of news while you're expecting, it's a much more intense and extremely vulnerable predicament to deal with. So, what happens if you lose your job while pregnant and are you legally protected in any way?
Although some would assume that there is a law out there that would protect expectant mothers from sudden unemployment, it is absolutely legal to lay off a pregnant woman or a woman on maternity leave — "as long as the employer can make the case that she is being let go for a reason unrelated to her pregnancy," according to The New York Times.
Yes, there is the Pregnancy Discrimination Act that protects a pregnant employee from being fired just because she is expecting, or a pregnant job-seeker from not getting hired simply because she has a bump. But that doesn't mean these situations don't happen on a more discreet level as "layoffs while pregnant can sometimes mask an employer's desire to let a pregnant woman go and avoid paying additional benefits," Laura Brown, executive director of First Shift Justice Project, told The Washington Post.
As long as employers can cite a valid reason for termination — such as budget cuts, company reorganization, performance issues, or buyouts — no law exists that would protect someone from this situation, even if she is pregnant.
So what do you do and what do you need to make sure you have figured out if this scary situation happens to you?
First things first: Make sure your health care is covered. If you're not able to get added on your partner's health care plan, you can utilize continued health coverage under COBRA, which allows you to keep your workplace health insurance for a while longer. Although, as The Washington Post reported, this plan is usually a much higher cost than an employer-sponsored plan, "since the employer is no longer contributing to monthly premiums."
Even though the GOP's bill to repeal and replace Obamacare is still in shambles and the future of the nation's health care hangs in the balance, ensuring that you and your little one's health are covered is a top priority.
Of course, job hunting while pregnant is not the most ideal situation. But if you do get another job while you're expecting, it's important to discuss things like maternity leave in addition to benefits like health care plans. As the Family and Medical Leave Act will protect your job for up to 12 weeks after childbirth, the law will only apply to you if the company you work for has 50 or more employees and you have been at the organization for 12 months.
"Sadly, many companies in America don't even have an official leave policy for new moms, so you could be forced to use a combination of paid time off and short-term disability," according to Forbes.
If you've been laid off, you can also apply for unemployment for a temporary source of income as expectant mothers are entitled to this just as any other eligible worker would be. However, you must be able to actively look for a job. "These benefits are only for women who happen to be pregnant and who have been laid off or were working for a company that has shuttered operations," according to The Law Dictionary. "This means that women who have been put on bed rest by their doctors are not eligible for unemployment."
Every soon-to-be mom's situation will be different — whether it be due to finances, health care coverage, or how far along they are in their pregnancy — but losing your job while you're expecting is an especially tricky situation. While no one wants to think this could happen to them, it does happen and it's better to be prepared for the unexpected.