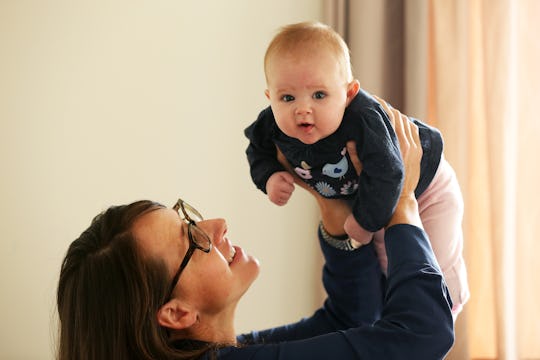 Fiona Goodall/Getty Images News/Getty Images
Title IX Has Pregnant Students' Backs
Earning a high school diploma or completing a college degree is usually a chaotic swirl of classes, tests, extracurriculars, and deadlines, and keeping all that straight and organized is often in and of itself a formidable challenge. For new moms and moms-to-be, the added logistical, medical, and social pressure can morph the everyday responsibilities of getting an education into a downright herculean task. So, it will be comforting for those focusing on both the weekly reading and bringing a child into the world to know what happens if they miss exams because of pregnancy and that they're covered if they experience harassment at school.
Here's the good news: A federal law that prevents sex discrimination in all federally funded institutions offers protections against these and other barriers. Passed way back in 1972, Title IX of the Education Amendments is generally associated with ensuring equal opportunities for female student athletes. But it actually protects their rights (and those of all students) beyond the soccer field or swimming pool.
Education, of course, starts in the classroom, so the law makes it illegal for institutions to hinder students' academic experiences simply because they are pregnant or have given birth. In fact, it dictates that they provide reasonable accommodations for them. If you miss that calc exam because you had an emergency C-section, for example, you can make it up when your doctor says you're ready. No questions asked.
As it relates to pregnant and parenting students, Title IX aims to eliminate discrimination on the basis of a person's status as a parent, their pregnancy, and related conditions – including abortion. According to a U.S. Department of Education fact sheet, institutions can offer alternative educational arrangements for pregnant students but not compel them to use them, must allow them to continue participating in activities, and even provide adjustments like a larger desk and elevator access. Absences are excused and assignments missed because of pregnancy or childbirth can be made up for as long as a doctor deems necessary.
And when an institution doesn't comply with these mandates, it runs the risk of inviting legal action. For example, the City University of New York ended up paying one of its students $3,000 in a 2013 settlement after the National Women's Law Center filed a complaint against it on her behalf. CUNY had not allowed Stephanie Steward to make up tests and assignments she missed because of her pregnancy, according to Inside Higher Education.
There are limits to these protections, however. Schools do not have to allow students to retain their student statuses or scholarships if they opt to take more time off — like an entire semester — than a doctor said was medically necessary. These must be retained for them if they return to classes within the timeframe allotted by their doctor, though.
Some lawmakers want to emphasize staying in school during and after pregnancy just as much as the right to take time off. A law passed this month in New Jersey aims to protect students from school officials in the state who may encourage them to take a leave of absence or withdraw, the Asbury Park Press reported. Assemblywoman Joann Downey explained why she supported the law, which makes it possible for pregnant students to maintain safe distances from hazardous materials and requires colleges to distribute pregnancy discrimination policies:
Too many women hear that it's virtually impossible to go to school if they're pregnant. It's a discouraging message, not one of empowerment. By accommodating women as they prepare for motherhood and for a career, colleges and universities in New Jersey can ensure that pregnant students have equal opportunity on campus.
Clearly, the most important freedom when it comes to mixing pregnancy and school is giving students the power of choice, lots of options, and the same opportunities as their peers.