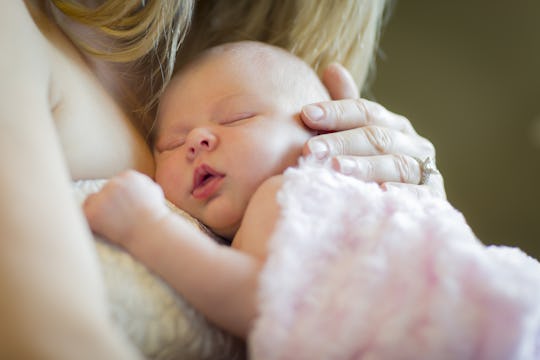 Andy Dean/Fotolia
Hugging Your Baby Is One Of The Best Things You Can Do For Her Brain
From the moment you have a baby, your life becomes all about doing everything you can for the benefit of your little one's health and well-being. Some of those things you do because you learned they're important, like driving her home from the hospital in a car seat. Others are things you do because they come naturally to you, like feeding her when she's hungry. Snuggling and cuddling fall into the latter category: Not only is it your instinct, but affection is actually a baby brain-booster, too. So what happens to your baby's brain when you hug her?
You've probably heard all about the many magical perks that come with skin-to-skin contact between parents and newborns: Studies have shown that this method of holding (also known as kangeroo care) "improves oxygen saturation rates, better regulates an infant's body temperature, and conserves a baby's calories," according to the Cleveland Clinic, resulting in less crying and quicker weight gain, as well as heart rate stabilization. There are benefits for moms, too: A review published by the Cochrane Library revealed that moms who had skin-to-skin contact with their babies soon after birth breastfed their babies for a longer period of time and had a higher rate of successful first breastfeeding sessions. And naturally, kangaroo care is helpful when it comes to bonding; as a 2014 article published in The Journal of Perinatal Education explained, skin-to-skin immediately after birth results in the release of the feel-good hormone oxytocin.
Skin-to-skin contact is so essential in so many ways, it's really no surprise that your baby's brain benefits from the practice, big-time. But it is pretty incredible that simply holding your baby close can do her so much good!