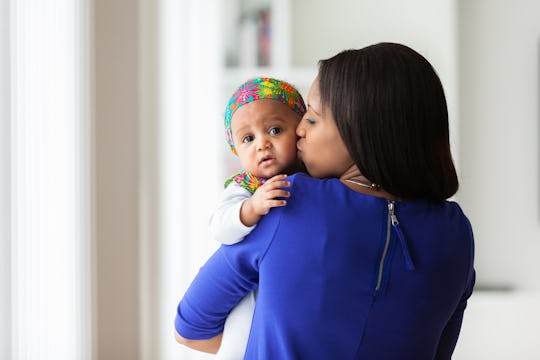 Samuel Borges Photography/Shutterstock
What Happens In Your Baby's Brain When You Talk, Sing, & Read To Them?
Every parent has an arsenal of silly songs and rhymes that drive them crazy but bring joy to their little one. And, studies show, these may do more than make baby smile and giggle with glee. It turns out, what happens in your baby's brain when you talk, sing, and read is more beneficial than you might realize. To better understand the importance of exposing your baby to tons of words, Romper spoke with Kara Dukakis, director of Too Small To Fail, a joint public awareness and action initiative from the Clinton Foundation and The Opportunity Institute. Too Small To Fail promotes the importance of early brain and language development.
When it comes to talking, reading, and singing with your child, "quality and frequency are both important," said Dukakis, Senior Vice President for the Strong Families and Early Learning Program Area at The Opportunity Institute. You want to use every opportunity to teach your child words and add value to these interactions with eye contact and physical touch. These exchanges between you and your baby create the framework for school readiness as well as long term learning success. Whether you're running errands or changing diapers, narrating the world for your baby will help their brain make the these important connections and realizations. Here's what else goes on internally when you interact with your baby through speech, songs, and books: