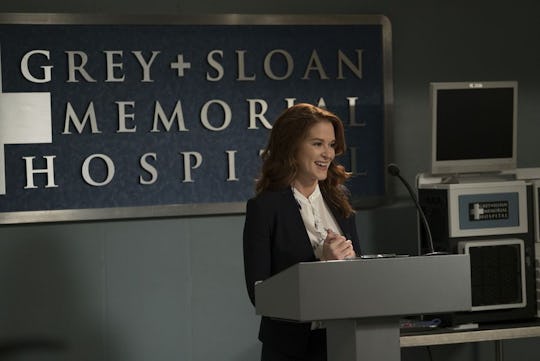 Byron Cohen/ABC
April's Fate On 'Grey's Anatomy' May Have Just Been Revealed — VIDEO
Once news broke that Sarah Drew, who plays April Kepner, was leaving Grey's Anatomy, theories about her character's exit began swirling with fervor. Though it seemed like April might actually leave the series on a happy note, the preview for next Thursday's episode has left fans asking what happens to April on Grey's Anatomy?
When it was first revealed that this would be the final season for April, along with Arizona (Jessica Capshaw), people immediately jumped to the conclusion that April would be killed off. And with a show like Grey's, which has killed off a number of fan favorites over the series, it wasn't an outlandish assumption. However, once April made it through her dark period and found God again, fans thought that perhaps show creator Shonda Rhimes wouldn't take that route with her character. In fact, it seemed like April was doing wonderfully, and when she got accidentally high she even admitted she was dating someone.
So fans were pretty shocked when the preview for next week's episode revealed that something terrible has happened to April. Of course, the preview didn't say what exactly occurred but Owen is seen calling April's name before he presumably finds her on the ground somewhere. The preview then shows the doctors trying to revive an unconscious April as Meredith says, "We're not going to lose her." Unfortunately, it looks like they actually might.
When Alex finds Meredith later, she only breaks down in tears and then in another shot Jackson is seen trying to hold onto April's body, while Meredith has to pull him off and try to push him away. Thus, this definitely does not look good for April.
That being said, this wouldn't be the first time a preview has insinuated that a character would be killed off, but in the end they were fine. Fans have seen this tactic multiple times, most recently with Amelia's cancer scare. So even though this preview definitely makes circumstances look quite dire for April right now, fans shouldn't lose hope, especially because this isn't actually the season finale, it's the episode right before it. And while not every major character death has happened during the finale, it seems a little hard to believe that Drew wouldn't make it to the very end of the season.
Unlike some other actors who have left the series on a bad note, Rhimes and the rest of the cast and crew of the show have made their love for Drew quite clear. Thus, it would be incredibly shocking if Drew didn't at least get to finish out her last season all the way to the end. Additionally, it's already been confirmed that the season finale will include Alex and Jo's wedding, and while death is something the doctors of Grey Sloan often have to face, I just can't imagine the show jumping from a funeral to a wedding in the span of one episode.
Therefore, I wouldn't give up hope on April's recovery just yet. Even though she does appear to be seriously injured, there's still a good chance she'll be able to push through. Miracles have happened on Grey's Anatomy and other characters have definitely been through worse. If anyone can survive this it's April. Besides, Harriet needs her. So like April herself would say, we just need to have faith and pray that everything will work out in the end. And if it doesn't, we'll all just pretend we didn't see that episode, right?
Check out Romper's new video series, Romper's Doula Diaries:
Watch full episodes of Romper's Doula Diaries on Facebook Watch.