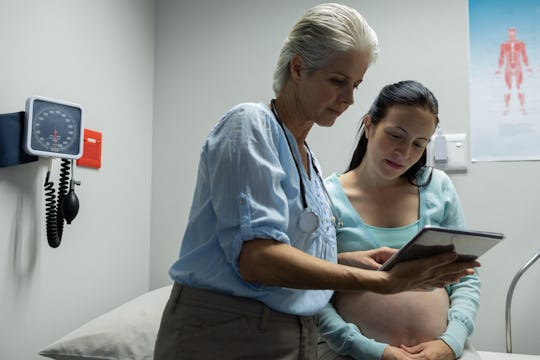 Shutterstock
Here's What You Need To Know About What Pregnancy Does To Breast Implants
Having children changes everything, as the saying goes, but does this hold true for plastic surgery as well? People who have gotten procedures in the past might wonder how they'll be affected by the many changes that go along with pregnancy. If you're concerned about what happens to breast implants after pregnancy, then you're far from alone. It's a super common concern.
First, it's helpful to understand just how popular breast implant procedures really are, because plenty of people have them. The top cosmetic procedure in the United States, breast augmentation procedures numbered at 313,735 for 2018, according to the American Society of Plastic Surgeons. When you consider the number of surgeries done in previous years, as well as the worldwide popularity of plastic surgery, it's easy to see why concerns about pregnancy, breastfeeding, and breast implants are all very common and expected.
To learn more, Romper spoke with two experts on the subject. Dr. Constance Chen, a board-certified plastic surgeon and breast reconstruction specialist, provided some excellent (and reassuring) insight on the topic; Dr. Adetola Louis-Jacques, a member of ACOG's breastfeeding expert work group, also added expert input to the conversation. Read on to find out what really happens to breast implants after pregnancy.