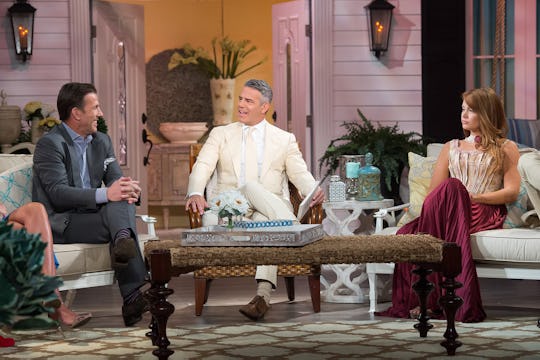 Charles Sykes/Bravo
'Southern Charm's Kathryn & Thomas Are In A Custody Battle
Thomas Ravanel and Kathryn Calhoun Dennis' relationship has been messy from the start on Southern Charm. They had a tumultuous few years together in which they got back together and broke up multiple times, bad-mouthed each other on social media, and finally called it quits for good. But breaking up wasn't that simple for the two of them because they also have two kids together: three-year-old Kensington and 18-month-old St. Julien. Now that they're no longer together, what happens to Kathryn and Thomas' children on Southern Charm?
Their custody battle has been going on for some time, though currently Thomas has primary custody of both children. Kathryn had to complete a stint in rehab following a failed drug test before the custody arrangement could be revisited — something that understandably has caused her a lot of pain. She told People that having so little time with her children was "the most difficult challenge I can imagine anyone could ever go through in life. Those are my two angels."
However, despite the difficulties, Kathryn was hopeful about the future. "I've learned that I have to cope right now because there is an end to all of this custody [conflict]," she said. "There's a light at the end of the tunnel. And I have to remain true to myself and remain resilient in my recovery. There's going to be a day when things get back to normal, and that day's getting closer and closer."
Prior to Thomas' gaining primary custody of the children, they spent most of their time with Kathryn. In June of last year, People reported that Thomas had not been in contact with Kathryn or the children in months and wasn't paying child support. However, according to Thomas, he was providing monetary support, and it was Kathryn who was preventing him from seeing the kids.
Their disagreements played out very publicly, which only caused the tension between them to escalate. But now that their rocky relationship is officially over, perhaps they can try and repair things enough to successfully co-parent their children. Both Kathryn and Thomas seem dedicated to taking care of their kids, and the fact that Kathryn's time in rehab was so helpful for her could bode well for the future.
As messy and complicated as their relationship and custody battle has been, Thomas and Kathryn have to do what's best for their kids. And to do that, they'll need to learn to work together. But whether or not their relationship improves is something only Season 4 of Southern Charm can answer.