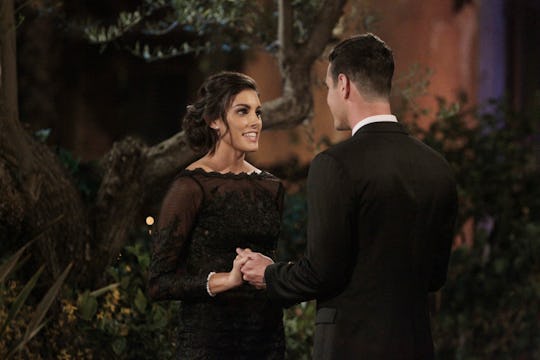 What Happens to Lace From 'The Bachelor'? Episode 3 Trailer Suggests She Becomes "Un-Laced"
ABC released another Episode 3 sneak peek for The Bachelor, and the title alone has a bit of an "uh oh" factor for Lace Morris, who seems to have quickly built up a wildcard name for herself this season. Morris, a 25-year-old real estate agent from Denver, Colorado, gave bachelor Ben Higgins his first kiss on the show, got a little tipsy on the first night, and threw a tantrum or two. One of the latest sneak peeks of episode 3 suggests that the drama has taken a step up from the first couple of weeks — and fans are understandably wondering what happens to Lace from The Bachelor. Spoiler alert — you won't want to read on if you don't like surprises.
On The Bachelor, Morris was understandably frustrated that she got started on the wrong foot. "I've been interrupted three times already," she told contestant Olivia Caridi in an ABC clip from the second episode. After one such interruption, she told the camera: "I just feel like I ruined my chances with Ben. ... The insecure Lace came out, and the Lace that I promised myself I would not be came out." Ouch. Everyone's been there, though, and I'm sure most people can commiserate with having put their foot in it.
As it turns out, in ABC's "Un-Laced" clip, it looks like Caridi might get a bit possessive of Higgins — and Morris might have more downs than ups, judging by the trailer. Another contestant claims Morris "is reaching the end of her dynamite stick," which might lead some viewers to think Morris will be voted off in Episode 3.
According to Inquisitr, however, Morris doesn't get voted off the show in Week 3 — or ever. Instead, frustrated by her conversations with Higgins, Morris leaves in the middle of a cocktail party and... well, leaves the show entirely, of her own accord.
It seems like Morris got a bad rap on the show, so I don't blame her for taking off. Even being on television in the first place seems rough, and even more so when you're painted as a show's villain. Having grown into a contestant to watch, however, Lace Morris doesn't seem like the type of contestant viewers will just forget. So where is she now, and what is she up to?
It seems that Morris has opened up her social media accounts once again — previously, Bustle reported that her Instagram was set to private and that Morris had remained mum on Twitter. Her Instagram pictures show her with friends in Colorado, and a friend recently tagged her in a photo captioned wth "Got to see my baby [Lace Morris] out here in Denver." Sounds like Morris is back at home.
Morris also tweeted about a "Lace Tells All" group on social networking app Frienedy, where you can join in for her blog posts, albums, wish lists, and chat room. Her other social media posts seem full of gratitude and positivity, so it seems like Morris is doing all right, after all.
Sounds like Morris has good reason to be upbeat, too — E! News recently reported that Morris will be starring in Bachelor in Paradise this summer. (Hey, I'd be stoked to leave the Bachelor drama behind for a slice of Mexico, too, even if it means, well, more Bachelor drama.) So if you're missing Morris after she waves goodbye on Episode 3, don't worry. She'll be back for another chance at a bachelor... just not Ben Higgins.
Image: ABC