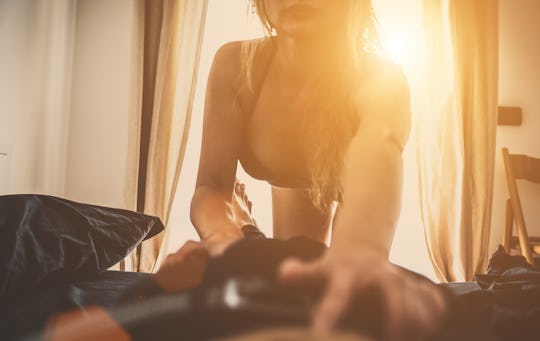 oneinchpunch/Fotolia
Here's What Happens To Your Brain As You Orgasm
An orgasm is a wonderful thing, right? When you have one of those slow build-ups followed by what feels like an explosion in every part of your body, you can feel euphoric for hours. But your body isn't the only thing affected by an orgasm. What happens to your brain as you orgasm can be just as mind-blowing as the orgasm itself.
As with most functions, the brain goes through many phases during orgasm. According to Women's Health, as you start to orgasm, your brain's genital sensory cortex region is triggered. It's also worth noting, according to a study cited in the Women's Health article, clitoral vaginal, and cervix stimulations each trigger different parts of the cortex. This means each that, in theory, stimulating several parts of the body at once may lead to more intense, more pleasurable orgasms.
As you or your partner continue to stimulate your pleasurable body parts, your hippocampus — the region that evokes dreamlike memories — is activated. The amygdala, which is involved in emotional expression and intense feelings, is also triggered at this time. As you start to orgasm, the cerebellum triggers tension in various body parts (such as your thighs, butt, and abs) while the frontal cortex kicks in and kicks off more sexual fantasies. Then the anterior cingulate cortex and insula turn on, both of which are regions that may inhibit pain so that you feel just the pleasure.
What does this mean, exactly? In an interview with Buzzfeed, Barry Komisaruk, Ph.D. and coauthor of The Orgasm Answer Guide, explained that when your brain begins to orgasm and cortex activity increases, those areas respond to pleasure and also inhibit pain sensations. This is likely why things like biting and hair pulling don't hurt as much when you're in the middle of the deed.
So what happens when you finally do reach the Big O? Well, first, the hypothalamus releases oxytocin, which causes the uterine contractions that generate those phenomenal orgasm sensations. Finally, the brain's "pleasure center" — or the nucleus accumbens in scientific terms — receives dopamine, allowing you to reach peak orgasm.
If you close your eyes, you can probably remember your last orgasm and how wonderful it felt (at least I can), and now you know exactly why. After all of that activity, though, your brain is tired. According to the aforementioned Women's Health article, this is when it's "lights out" in the brain and everything in your body cools down as you bask in the afterglow. Enjoy it.