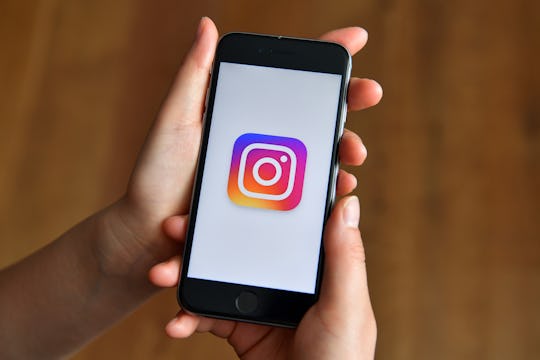 Carl Court/Getty Images News/Getty Images
What Happens To Your Instagram Live Videos When They're Over? They Stay In The Moment
Earlier this week on Dec. 12, the social media app Instagram rolled out live videos in its Stories section. The new feature — only available to users in the United States at the moment — borrows a little bit of structure from its competitors, like Snapchat's Stories and Facebook's live streaming option. But unlike the other social media platforms, with live video broadcasted on Instagram Stories, users can never go back and watch them. So, what happens to your Instagram live videos when they're over? According to the app, live Instagram Stories are only available as they're being filmed, so once the broadcast has finished it can't be replayed.
In other words, they simply disappear. And this approach is basically what sets the feature apart from Snapchat's Stories — a collection of photos and videos that lasts for 24 hours and can viewed by your friends as many times as they'd like — and Facebook's live video posts, which can be shared and viewed again and again long after the user has finished streaming.
"Live is unedited and stays in the moment, and it's the way many people on Instagram want to share," Instagram spokesperson Gabe Madway told Wired in an email. "We thought it made sense to integrate live video into stories because that's the space for ephemeral sharing on Instagram."
It might be a frustrating approach for some users who may want to re-watch a particularly interesting live video that they've broadcasted themselves or another user's video. But, structuring it so the videos disappear as soon as you hit "End" does actually make some sense.
Instagram's parent company Facebook already offers live videos that can be replayed and shared to be watched again whenever. But, the most different factor about Instragram's approach is that it provides users with another outlet to attract a different type of audience by sharing intimate moments with their followers (or anyone who wants to watch if you're account is public) that shows them candidly and completely unedited.
If it's still appealing, don't worry if you've never gone live on Instagram before because it's super simple, but just make sure you have a strong internet connection when you plan to start your broadcast.
After you open the app, tap on the camera icon in the top left corner and tap "Live" at the bottom on the screen. Then, tap "Start Live Video." Instagram will then check your internet connection, and, if everything checks out, it will give you a three-second countdown until your live recording will begin, which you can share for up to an hour.
Here's a quick tutorial on how to use Instagram's live videos:
"Your friends may get a notification when you go live so they can tune in," Instagram wrote in a blog post last month. "While you're live, you can pin a comment for everyone to see or turn comments off altogether."
While some users might be disappointed that they can't replay or save their live videos they posted on Instagram, there are certainly enough social media apps in the ever-evolving tech world to keep us entertained and meet our needs at any given moment.