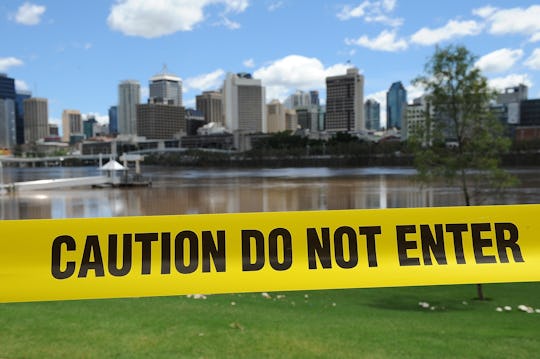 Matt Roberts/Getty Images News/Getty Images
What Happens When A Child Goes Missing? The First 48 Hours Are Crucial
CBS' recent JonBenét Ramsey docu-series, which airs 20 years after her murder, has fanned the flames of public interest in missing children's cases — especially when it comes to police investigations into missing children. When are parents supposed to report missing children? What are police departments' first steps in a missing child investigation? And in the seconds, minutes, and hours after that 911 call is first placed, what happens when a child goes missing?
When it comes to missing children, the first lesson you learn from shows like CSI is correct: Time is of the essence. According to the National Center for Missing and Exploited Children (NCMEC), the first 48 hours after a child has gone missing are the most critical for a case, and there's a lot that families can do to facilitate the search for their children.
As soon as a parent has determined that their child has disappeared (and is not, in fact, hiding from dish duty in their room or at the next-door neighbor's), it's important to place a call to local law enforcement right away.
"Parents should report missing children to authorities immediately," John Vescio, a retired New York State Police senior investigator, told Romper. "If a parent feels their child has disappeared under suspicious circumstances, engaging law enforcement to respond and investigate takes the burden off the parent and allows them to focus on providing information that law enforcement will be able to use to locate the child." Parents and friends can then begin compiling information that will help law enforcement in their search.
Parents can determine where, when, and with who their child was last seen; They can secure (without going into) their child's room and electronic devices; and they can put together descriptive information, including any medical conditions, of their child. Were there custody issues at play? Has the child shown any recent changes in behavior? Has anyone shown unusual interest in the child lately? Access to the home should also be restricted until officers can search it in depth, and phone lines should be kept clear.
Laws and procedures change from state to state, but in cases of missing children, most police departments will cover several critical areas right away. In the first crucial hours, officers will begin collecting relevant information and filing reports where necessary. Missing child cases tend to fall under one of five categories, according to the NCMEC: a non-family abduction (which is what you would think of as your usual "kidnapping"); a family abduction (in which a family member takes the child, against court orders); a runaway; a "thrownaway" (in which case a parent or family has abandoned their child); or a child who is missing under unknown circumstances.
"The most challenging aspect of missing person investigations can be making an initial determination regarding why the person disappeared," Vescio says. "Careful examination and evaluation of all information is essential, and determines the direction in which law enforcement will focus their efforts."
The NCMEC considers missing children further at risk if the children are: under 13; out of their "zone of safety" (for an infant, this might be their crib; for a 10-year-old, this could be their neighborhood and school); have mental or physical disabilities that make them vulnerable; are dependent on drugs (legal or otherwise); have been absent for over 24 hours; or are known to be in hazardous situations.
Once the level of risk has been established and an initial report has been filed, things get escalated if necessary. Supervisors might get involved, more resources could be added to the case, and an officer will transmit a radio broadcast alerting all other police officers in the vicinity of the missing child. Police will investigate any past records involving the family or the missing child, and interviews will be carried out with anyone of interest. Due to federal law, law enforcement needs to file a child's information with the National Crime Information Center (NCIC) Missing Person File within two hours of receiving a missing child report.
Once the missing child data is in the NCIC database — and if officers have reasonable belief that a child (under the age of 17) has been abducted and is in imminent danger — they may issue an AMBER Alert. An AMBER Alert, only used in very serious cases, will interrupt all programming on broadcast TV and radio in affected states (and may even be featured online or on cell phones). Police officers may also notify the media and prepare to canvass neighborhoods and larger areas of interest. In some cases of abduction where a child under age 12 is involved, the Federal Bureau of Investigation might get involved, but doesn't not respond initially.
After those thorough, initial steps, however, it's up to supervisors to decide where to look, who to interview, and how to proceed — and for that, they need as much information as possible. "The first few hours are crucial for law enforcement," Vescio says, explaining:
Parents of missing children need to cooperate and be forthcoming with information initially and throughout. Law enforcement's approach is standard and changes as the investigation progresses. Leads are followed and once good information is developed, it will dictate any changes in law enforcement's approach.
Communities can get involved by joining organized search parties, volunteering any information they may have, and disseminating information online and in person (using flyers, posters, and word of mouth). Each city, state, and case is different, of course, and undergoing the search for a missing child is one of the hardest investigations a parent could go through. If you have any information on a missing child, please contact your respective authorities or the NCMEC (dial 1-800-THE-LOST).