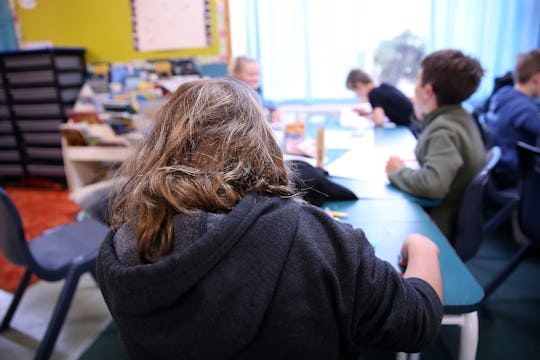 Fiona Goodall/Getty Images News/Getty Images
What Happens When Public Schools Lose Funding?
Federal budget cuts are a topic of concern among most, but especially for parents and educators who are worried the effects will trickle down to schools. With all the discussion of charter schools and vouchers, it's important to see how both will impact public schools, especially when looming budget cuts are factored in. So what happens when public schools lose funding?
Education Secretary Betsy DeVos and the Trump Administration have advocated for the creation of more charter schools, as well as implementing a voucher program to make charter schools affordable. A bill, H.R. 610, was proposed in January to do just that. At first glance, that may not seem like a big deal. There will be more schools. That can't be a bad thing for students, right?
The problem is that the money used to create vouchers is coming from the same federal budget that is allocated to public schools. Politico reported that the Trump Administration wants to create a federal tax credit scholarship program to encourage school choice, but that the federal spending on education likely wouldn't increase.
And schools in low-income neighborhoods are often hit hardest when faced with cuts, because they rely more on federal money, MSNBC reported.
In 2016, when federal cuts cost schools $140 million, Chicago Public Schools were hit hard, The Chicago Tribune reported. One elementary school principal said she'd have to cut two to three teaching positions — which means bigger class sizes. Some schools even had to cut spending on after-school programs, which are essential to kids with working parents. That also meant less money for supplies and instructional materials.
Teachers often face salary cuts when schools have less money to spend, CNN reported. And sometimes, more experienced teachers are pushed out in favor of newer teachers who are willing to take a smaller salary.
Students, meanwhile, don't just miss out on fun after school activities like the art club my high school offered — they struggle. The Pittsburgh Post-Gazette reported that Pennsylvania students' scores decreased once their schools received budget cuts. Average scores dropped in every subject in every grade level, and among all races and income levels. That is depressing.
And if a student fails a class, he or she may not be able to make it up in time to move on to the next grade level, because some schools even cut summer classes in the face of budget cuts.
The National Education Association has spoken out strongly against using federal money to fund voucher programs. National Education Association President Lily Eskelsen Garcia said in a statement that vouchers "steal taxpayer dollars from public schools to fund private and for-profit schools, all at the expense of students." She added:
It is time we start doing what we know works by fully supporting neighborhood public schools so that students have a well-rounded curriculum, class sizes small enough for individual attention and support services such as health care, nutrition and after-school programs for students who need them.
There are some people who genuinely feel that parents deserve as many choices of schools as possible. But not if that choice comes at the expense of other children.