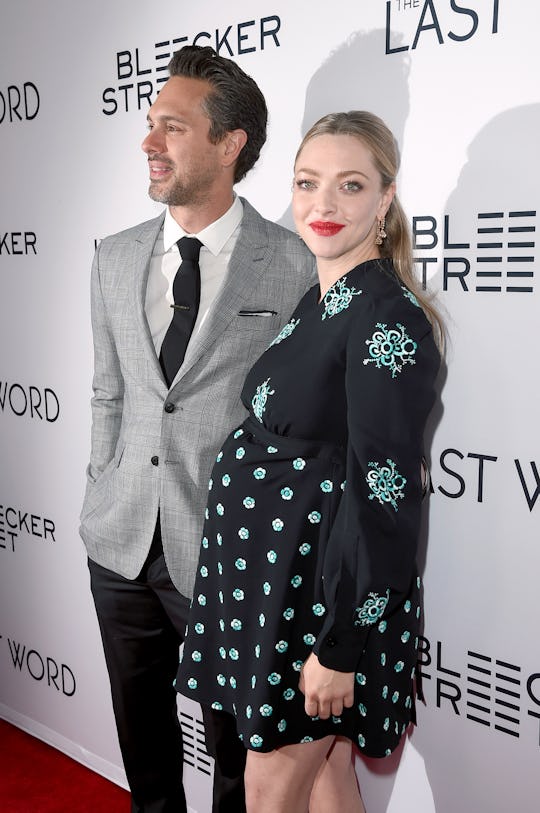 Kevin Winter/Getty Images Entertainment/Getty Images
Amanda Seyfried Is Having One Epic Year
Amanda Seyfried's life has completely changed in a matter of days, as it was confirmed on Saturday that the actress had given birth to a baby girl over the weekend. Seyfried has been in the entertainment industry for the past decade, starring in cult classic movies (ahem, Mean Girls) and even delving into stage acting. But what has Amanda Seyfried been doing recently? In addition to being, you know, pregnant for the past nine months, Amanda Seyfried has been keeping herself very busy.
Up until giving birth, Seyfried has had her hands full — both in her personal life and at work. In the weeks leading up to baby Seyfried's delivery, Seyfried had been hard at work, promoting her newest film The Last Word, which is currently out in theaters. In The Last Word, Seyfried stars alongside legendary actress Shirley MacLaine as an obituary writer who is assigned to write the obituary of a powerful businesswoman before she dies.
"It was awesome, the whole experience was magic," Seyfried told Access Hollywood about working with MacLaine. "It was like a beautiful, magic blur," Seyfried said. The Last Word is special to Seyfried — filming the movie was where she was reunited with partner Thomas Sadoski (the two originally met while acting in the same off-Broadway play in 2015).
Seyfried also acted while pregnant, well into her third trimester; According to Just Jared, Seyfried wrapped filming on a "special project" titled First Reformed in February.
But Seyfried has also kept busy in her personal life, secretly marrying Sadoski weeks before giving birth. The two married earlier in March, according to People, and Sadoski revealed a few details during an appearance on The Late Late Show with James Corden. "We eloped," Sadoski said. "We just took off into the country with an officiant and, just the two of us, and we did our thing." Um, not like that's a huge deal or anything.
And Seyfried will have a lot to look forward to within the next year too. The thriller film Anon, in which Seyfried stars and which was shot in September 2016, is due out later this year, according to The Daily Mail. On May 21, Seyfried will also make her return to TV screens in the long-awaited third season of Twin Peaks as a "pivotal new character," according to Vanity Fair.
The month of March has been quite eventful for Seyfried — debuting a brand new film, getting married, and having her first child — and the year is far from over for one of the hardest working actresses in Hollywood.