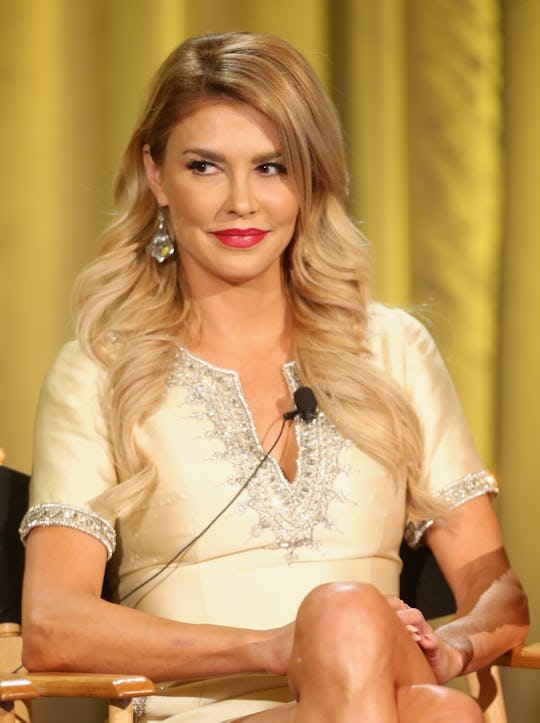 Frederick M. Brown/Getty Images Entertainment/Getty Images
What Has Brandi Glanville Been Up To Since 'Real Housewives'? She's Been Busy
The Real Housewives of Beverly Hills has definitely felt different since Brandi Glanville's exit, though a few of the ladies have done their best to step up and fill her drama-stirring shoes. She hasn't disappeared entirely, however, still popping up every so often to chat with friend Yolanda Foster. While it's not certain that she'll ever be back as a main cast member, Brandi is going to make an appearance during the reunion that's sure to ruffle some feathers. But what does Brandi do with her downtime, and what has Brandi Glanville been up to since leaving Real Housewives?
Though Brandi will appear at the reunion, rumors are she won't actually be sitting down the ladies. Instead, her segment will be pre-recorded — possibly because she's on less than stellar terms with most of the women on the show. Brandi has kept busy outside of RHOBH, though she hasn't been as reality television active as one might expect from how often her name ends up on gossip sites. She did appear on Season 7 of Celebrity Apprentice and she has a new show on E! in the works. She also hosts a weekly podcast called Brandi Glanville Unfiltered.
Brandi has come under fire for some of the comments she made on her podcast, where she interviews people and shares personal stories with her specific brand of Brandi flair. That hasn't stopped her from saying what's on her mind, and she has extended her no boundaries brand to a line of wines called Unfiltered Blonde. She has a line of t-shirts with catchy little Brandi slogans on them too, in case you've ever felt the need to walk around with one of her soundbites on your chest.
Brandi was just as explosive during her time on Celebrity Apprentice as she could be on the Real Housewives, getting herself into a feud with fellow Housewife Kenya Moore. It came to a head when Kenya brought up Brandi's ex Eddie Cibrian leaving her for Leeann Rimes; while Brandi didn't react in the moment, Kenya later went on to say Brandi had been antagonizing her behind the scenes for weeks.
Brandi's newest show is set to debut on E! soon. It's called Famously Single, and it follows a group of former reality tv stars who are looking for love while they try to overcome their past problems. Brandi will be appearing alongside Jersey Shore's Pauly D. and Aubrey O'Day, among others, while therapist Dr. Darcy Sterling (a soap opera therapist name if ever I heard one) helps coach them through their issues.
It seems like Brandi has been doing just fine without RHOBH as she keeps working and takes care of her two sons. Brandi is still out there being Brandi.