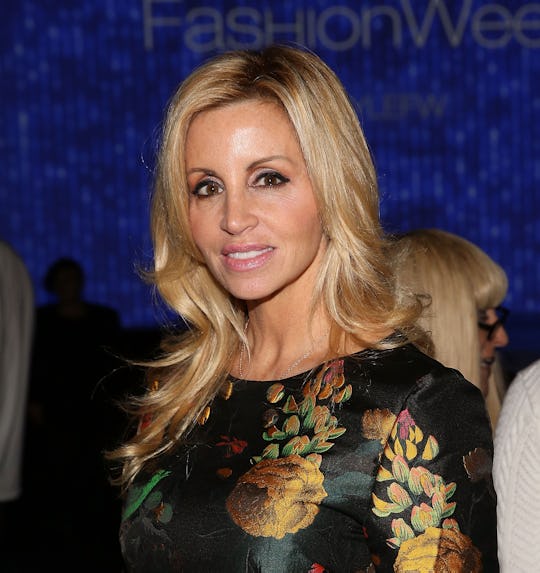 Robin Marchant/Getty
Camille Grammer Is Making A Comeback On 'RHOBH'
True longtime fans of The Real Housewives of Beverly Hills will remember Camille Grammer well. Though she started as a true villain, she eventually became more sympathetic during her split from her famous actor husband Kelsey Grammer. Now after a five-season absence, Camille is returning as a regular on the show. So what has Camille Grammer been doing? The RHOB alum has been keeping herself busy over the years, and I cannot wait to catch up with her.
One can only look back fondly on Camille's first two seasons on Real Housewives of Beverly Hills. She was a member of the original cast, of whom only Kyle Richards and Lisa Vanderpump still remain. Housewives come and go, but it is a rare few that can continue to make an impression years after they left. Camille is responsible for inspiring one of Kyle's most iconic lines, "You're such a f*cking liar, Camille!" as well as being the first to call out costar Taylor Armstrong's abusive husband on the show. She also hosted the infamous "Dinner Party from Hell" in which Camille's friend Allison DuBois, the psychic medium who inspired the show Medium, started insulting people around the dinner table while casually puffing on an e-cigarette. The fights that erupted all around the table were almost cartoonish, and goes down as one of the best moments in reality TV history.
In an interview with Katie Couric, Camille claimed that the reason she left the series after two seasons was that the offer the network presented her with, in light of her requests for privacy for her kids and boyfriend, was not something she was comfortable with after two seasons on the show. But she did return in a limited capacity from time to time as a "guest" of the main housewives. In Season 8, Camille is still not a main figure on the show, but she has been upgraded to the "friend" category, which means we'll be seeing a lot more of her.
These days Camille's life is filled with both roses and thorns. The bad news is that Camille is currently undergoing a second bout with cancer. She got a hysterectomy in 2013 after being diagnosed with endometrial cancer. She celebrated one year in remission. Unfortunately, she recently shared that she has also just now undergone surgery to remove a different kind of cancer. In an Instagram post, Camille showed a picture of herself in the hospital getting a squamous cell carcinoma, a type of skin cancer, removed. In the caption she thanked her doctor for removing those "pesky skin cancer cells."
But Camille's life is certainly not all doctor visits and cancer scares. A long time after her contentious divorce with Kelsey Grammer, Camille is now happy and in love once again. Camille is engaged to handsome lawyer David C. Meyer, and the two of them look downright adorable together. In an interview with People, Camille said, "I'm very blessed to have met the man of my dreams," she stated. "I know that sounds really corny… but he's handsome; he's smart he's supportive; he's a great dad. I'm very impressed with his children and how he's raising his children and his coparenting. I was very impressed with his coparenting skills with his ex-wife, and I'm very happy."
For what it's worth, I don't think that sounds corny at all, Camille. After watching such an ugly divorce, battling cancer and having a friend like Allison DuBois, I think Camille really deserves happiness in her life. I just hope we get to see a little more of this mystery man on the show.
Check out Romper's new video series, Romper's Doula Diaries:
Watch full episodes of Romper's Doula Diaries on Facebook Watch.