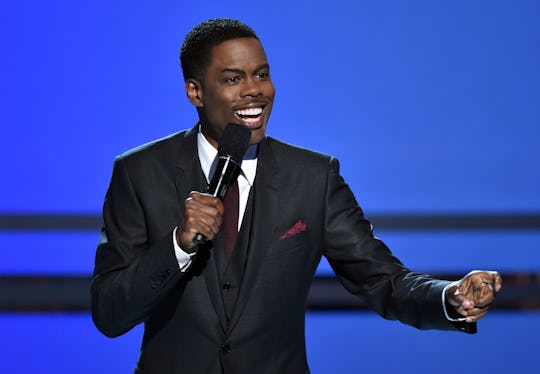 Kevin Winter/Getty Images Entertainment/Getty Images
What Has Chris Rock Said About #OscarsSoWhite? He's Saving His Jokes For The Big Night
The 2016 Oscars are quickly approaching, and the hot topic of conversation is not whether Leo will finally take home the statue or if Lady Gaga will get one step closer to an EGOT. No, it's something much bigger — the lack of diversity in this year's Oscar nominations. The predominantly white nomination list caused some serious social media outrage, creating the now infamous hashtag #OscarsSoWhite. The lack of diversity has also led to several actors of color boycotting the award ceremony altogether. As the controversy rages on, many have wonder what host Chris Rock has said about #OscarsSoWhite and the academy as a whole.
Despite being a very opinionated comedian, Rock has stayed relatively silent on the topic. The day after the Oscars nominations were announced, Rock tweeted a promo with an opinionated caption that read, "The #Oscars. The White BET Awards." Ever since then, he has kept his thoughts to himself. But his silence shouldn't be taken as a sign that he doesn't support fellow black actors and actresses. Rather, it' may mean that he's saving his commentary for Feb. 26.
On Oscar night, Rock's voice will be heard by hundreds of members of the movie industry and millions more people at home. On Oscar night, his thoughts won't be limited to 140 characters or less. On Oscar night, he will be given a platform where he can actually make a difference. And, according to the Oscars' producers, he's working hard to make that happen. In an interview with Entertainment Tonight, Academy Awards producer Reginald Hudlin revealed that Rock had finished his monologue prior to the nomination ceremony, only to tear it up when the controversy came to light.
"As things got a little provocative and exciting, he said, 'I'm throwing out the show I wrote and writing a new show," Hudlin said of the soon-to-be two-time Oscar host. He also reassured viewers that Rock wouldn't hold back when it came ot addressing the lack of diversity. "You should expect #OscarsSoWhite jokes. And, yes, the Academy is ready for him to do that."
Of course, anyone who knows Rock's comedic styles knows he always dives head-first into controversy. Particially when the controversy has to do with race. And, as he proved during his first hosting gig in 2005, he isn't afraid to tackle the issue at the Oscars. During Rock's 2005 Oscar monologue, he commented on the lack of black nominees, referring to the award show as the, "Deaf Oscar jam."
Yet despite his track record for speaking his mind, many of Rock's fellow black actors and actresses are upset that he hasn't stepped down from his hosting duties. Time reported that 50 Cent posted a now deleted photo of him and Rock with the caption, "Chris please do not do the oscars awards. You mean a lot man, don't do it. Please." Similarly, in an interview with People Now, actor Tyrese Gibson said Rock should step down and that keeping the gig, "won't affect change."
But stepping down is the worst thing Rock could do for the #OscarsSoWhite movement. By keeping his hosting gig, he has the chance to make a powerful statement about the lack of of diversity in Hollywood that will be heard by millions, many of whom play a major part in the industry. If that doesn't affect change, what will?