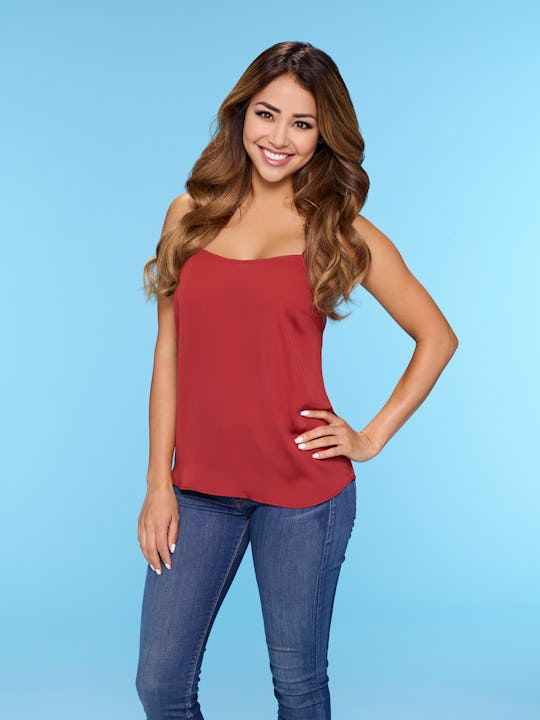 Mitch Haaseth/ABC
Danielle L. Has Been Romantically Linked To Another 'Bachelor' Alum
When I watched reality shows years ago — Flavor of Love, for example — I would always wonder what happened to the contestants post-show. Bachelor Nation, thankfully, doesn't really have to wonder. This is not only due to social media, but because of Bachelor in Paradise, where last season's cast-offs can return for another chance at love. One fan favorite returning to the fold is Danielle Lombard from Nick's Bachelor season. The two hit it off, but she just wasn't the one for for him. So what's Danielle L. been up to since Nick's season of The Bachelor? She was actually linked to another Bachelor alum not too long ago.
The then-27-year-old didn't go very far to get to the Bachelor mansion: she's from Los Angeles. She owns a nail salon, and called herself a small business owner on the show. Danielle was, unfortunately, eliminated after a two-on-one date, which shocked fans — as well as Danielle herself. Earlier in the date, Nick sent Whitney home. Usually, only one contestant leaves during a two-on-one, so Danielle's elimination was out of the ordinary. In a Facebook Live with Entertainment Tonight after being sent off the show, she was emotional about how it went down. "It just totally blindsided me," she told ET. "I really had strong feelings for him and to see him react that way, it sucks."
Thankfully, Danielle seemed to bounce back quickly — so much so that she started talking to another member of Bachelor Nation. In another timeline, he would've been the Bachelor himself: Luke Pell. Back in March, Luke told Us Weekly that Danielle was "great," but they hadn't gotten to know each other yet. They met in Los Angeles sometime after Danielle was eliminated. However, Danielle stated in an interview with Elite Daily that she and Luke weren't exactly an item. "We've seen each other at Bachelor events and we've talked… I don't know," she explained. "If just talking to someone means you're dating someone, I feel like I'd be dating a lot of people right now."
Even though there were rumors at the time, it seems that the relationship didn't stick. Interviews that both Luke and Danielle did are evidence of that, but even more so is the fact that Danielle's going to be showing up in Paradise very soon. Besides that, it seems that Danielle's just been living it up in L.A. and hanging out with her Bachelor friends. Hopefully Danielle finds what she's looking for in Paradise, whether it's more friends or a potential husband.