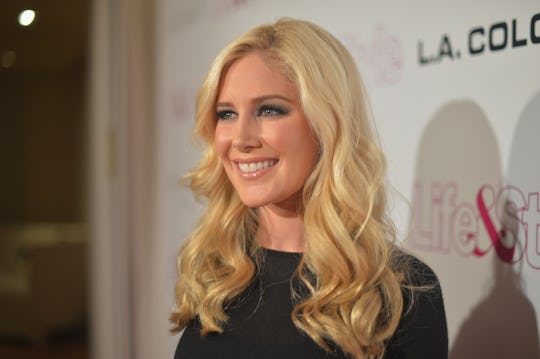 Charley Gallay/Getty Images Entertainment/Getty Images
What Soon-To-Be Mom Heidi Montag Has Been Up To Lately
Anyone who grew up watching The Hills remembers Heidi Montag, who went from friendly sidekick to plastic surgery-loving "villain" over the course of the popular MTV reality show's run. Now, seven years after it went off the air, many fans are wondering, what has Heidi Montag done since The Hills? Turns out she's been doing a lot more of the same, while married to the onetime-boyfriend who caused so much of that show's drama. And now, in an exciting bit of news, the couple is expecting their first child together.
Montag, 30, and Spencer Pratt, 33, married in 2009, after meeting during The Hills and quickly becoming the drama-creating, self-promoting reality TV couple that everyone loved to hate. Montag and Pratt were fully aware of their own personas and, after The Hills ended, they seemed happy to go on other shows and give the audience the same sort of glossy treatment. As Pratt explained in a 2016 interview with Vulture, "We're career reality personalities. We've been on like eight shows because we continue to do what the producers want done." That included stirring up trouble on shows like Celebrity Big Brother and Marriage Boot Camp, although none of those appearances put them in the national spotlight quite like The Hills did.
The couple also wrote a book together on their particular expertise, called How To Be Famous. And Montag worked on a singing career, sinking millions of her own money into producing songs, although only one of them, "Body Language," became a modest hit and the music career ended up losing the couple money. As of recently, they were focusing on their social media profiles, while Montag worked on a new project she described to People as a "coffee table wife type of book."
But now they're about to enter a completely new phase of life — parenthood. Montag and Pratt announced their baby news on the cover of Us Weekly, dressed all in white and making their hands into a heart over Montag's bump. It seems that maybe this is the role Montag has been aching to play the whole time, as Pratt told the magazine that Montag "has wanted to be a mom since the day I met her."
A baby on the way is bound to bring the couple renewed attention, but the public will have to wait and see whether Montag and Pratt will continue to lean into their previous personas, or try out something a little less public. Either way, it seems they're more than happy to make room in their lives for the new addition — and for a whole lot more love.