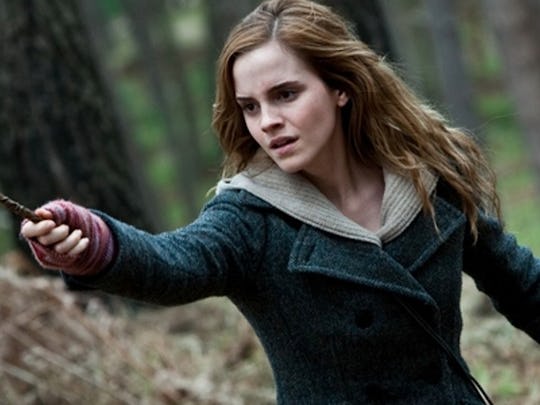 Warner Bros.
What Has Hermione Been Up To Since 'The Deathly Hallows'? She's Kind Of A Big Deal
Oh, Hermione Granger. It was such an extraordinary experience to watch everyone's favorite brain grow into a brave, strong, and even more passionate young woman in the seven short years she was a student at Hogwarts. Readers learned in the final pages of Harry Potter and The Deathly Hallows that Hermione had ended up married to none other than her red-headed BFF, Ron Weasley, making them the greatest couple of both the wizarding and muggle worlds. So, other than becoming a Granger-Weasley and a mom, what has Hermione been up to since The Deathly Hallows?
(Warning: This post contains spoilers from Harry Potter and The Cursed Child.)
If you aren't one of the lucky audience members at London's Palace Theatre getting ready to watch the stage production of Harry Potter and The Cursed Child, you haven't yet had a chance to download or pick up the hard copy of J.K. Rowling's eighth installment of the Harry Potter series, and you simply cannot wait to know, you'll be happy to learn that Hermione Granger-Weasley is The Minister For Magic.
And really, are you surprised? I mean, this is the little girl who was given special permission by Professor McGonagall to use a Time-Turner in order to take more classes than her schedule (or the 24 hours in a day) would allow. Hermione was bound to be something great.
Yes, Hermione now holds the highest office in the wizarding world. She is the leader of the magical community in the United Kingdom and Ireland, and is the highest ranking memory of the Ministry of Magic. It goes to show that hard work and determination do pay off, even when you have a magic wand.
If you recall, in Harry Potter and The Deathly Hallows, Kingsley Shacklebolt was the last wizard to take this office. According to Pottermore, "there is no fixed limit to a Minister's term of office, but he or she is obliged to hold regular elections at a maximum interval of seven years." How long will Hermione remain in charge? From the looks of it, her daughter Rose may be next in line.