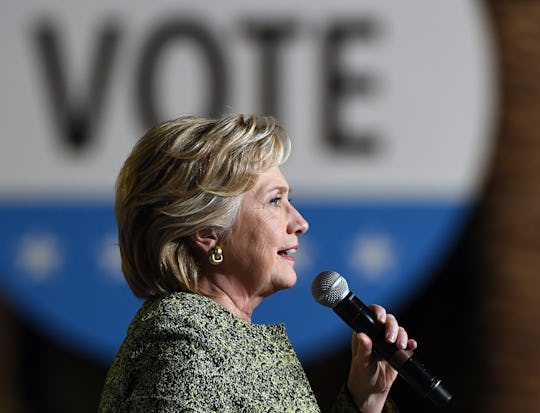 Ethan Miller/Getty Images News/Getty Images
What Has Hillary Clinton Said About Bill Clinton's Accusers? Trump Says She Silenced Them
The 2016 presidential election has been a long and undoubtedly tiresome process. Not only for the two presidential nominees, Democratic Party nominee Hillary Clinton and Republican Party nominee Donald Trump, but for the voters closely following. The two presidential debates have certainly had contentious moments, with differences in policies and attacks on one's character to unpack. What's more, outside of the debates, news surrounding the nominees – leaked e-mails, and leaked tapes of recorded conversations – have significantly shaped the conversation. And one important topic in particular has recently been a focal point of the presidential election: Sexual assault. So what has Hilary Clinton said about Bill Clinton's accusers?
The second presidential debate covered a leaked 2005 recorded conversation with Donald Trump, who made lewd comments about his experiences with women which described sexual assault. Another conversation in the debate, initiated by Trump, was past rape, sexual harassment, and sexual assault allegations against former President Bill Clinton. Sexual assault accusations should be taken serious on all accounts.
Romper has reached out to Hillary Clinton's campaign regarding the past sexual assault, harassment, and rape allegations against Bill Clinton, and has not yet heard a response. Clinton was never charged for any crime.
Trump and his campaign have argued that Hillary Clinton has attacked Bill Clinton's accusers publicly throughout the years. Trump invited four women – Paula Jones, Juanita Broaddrick, Kathleen Willey and Kathy Shelton – to the second presidential debate to drive home his point that Hillary Clinton has in ways worked against women who made sexual assault accusations, despite her statements in support of sexual assault survivors.
Here's a quick recap of the four women's accusations and connections to Bill and Hillary Clinton: Broadderick alleged that she was raped by Bill Clinton nearly 40 years ago, Willey accused Bill Clinton of groping her in the early 1990s, Jones accused Clinton, who was governor of Arkansas at the time, of exposing himself to her in 1991; and Hillary Clinton defended a man on trial in 1975 who was accused of raping a then-12-year-old Shelton.
Bill Clinton denied Broadderick's allegations through his lawyers, and denied Willey's during a 1998 deposition. Jones' sexual harassment lawsuit against Bill Clinton resulted in a $850,000 settlement after the suit was dismissed and then appealed in 1998, The New York Times reported. According to The Times, Bill Clinton did not admit any wrongdoing nor did he apologize.
So what has Hillary Clinton said about his accusers throughout the years? According to his accusers' accounts, Clinton tried to silence them – though some claims are left to interpretation, with little proven evidence publicly available.
As Time reported, Broadderick claimed Hillary Clinton once pressured her to "keep quiet" at a fundraiser: "She pulls me into her… and that very sweet voice fades to a very angry voice, a very low voice, and she pulls me close to her, and she says 'Do you understand everything you do?' Broaddrick said. "I felt like in that moment she knew everything and was saying 'You better keep quiet.'"
But it's worth noting this was Broaddrick's interpretation of her interaction with Hillary Clinton. As The Guardian and CNN reported, Hillary Clinton had, reportedly or publicly, made negative comments about women who had affairs and alleged affairs with Bill Clinton – such is the case with Monica Lewinsky and Gennifer Flowers, who alleged she had an affair with Bill Clinton (which Bill Clinton denied.) But in these cases, the affairs and alleged affairs describe consensual sexual contact, not sexual assault.
A 2015 CNN report revealed that when Clinton was asked about Broaddrick, Willey, and Jones on the campaign trail, she replied: "Well, I would say that everyone should be believed at first until they are disbelieved based on evidence."
Jones and Willey have publicly argued that Hillary Clinton was an enabler for her husband's actions, and Willey had previously accused the Clintons of using intimidation tactics to silence her – reportedly including a claim that she found a cat skull on her front porch. But there's been no apparent evidence to connect the Clintons to such a crime.
All sexual assault victims and accusers should be taken seriously. But Trump should certainly have sufficient evidence before making the serious claim that Hillary Clinton attacked or silenced Bill Clinton's accusers.