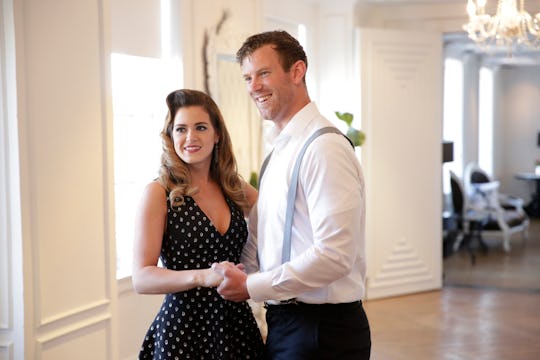 Greg Zabilski/ABC
What Has James Taylor Been Up To Since 'The Bachelorette' Ended? He's Been Celebrating
Since The Bachelorette stopped filming and started airing, its contestants have been keeping busy waiting and watching as their stories unfold on television. Some of them exited early and some are already standing out as guys likely to make it all the way to the end – or almost all the way. James Taylor (insert name joke) has come off as sweet and well-meaning in all two of the aired episodes, maybe him an easy guy to root for. What has James Taylor been up to since The Bachelorette ended?
Instagram can be very revealing, and James has been posting regularly since filming concluded. In between posts about the show, it seems like James has been enjoying his time off. The Texas native has been hanging with friends and family in Atlanta, where he currently lives, but he's also been celebrating. James spent Memorial Day weekend in Lake Martin, Alabama with friends – and celebrated his thirtieth birthday at the same time.
Sticking to his good guy image, James seems to have stayed on good terms with some of the other guys from the show, posting pictures with Wells and Jordan. He also dropped in on a Bachelorette viewing party just to surprise all the women watching. What a sweetheart.
James is also staying true to JoJo, or so it seems. He posted a picture of the two of them on their swing dancing one-on-one date for women crush Wednesday, and also gave her a shoutout on his birthday. This continued affection for JoJo could be a hint that James is the one she chooses in the end – or it could mean that they parted amicably, and James really is just crazy nice. If he can hang with his competitors, who's to say he can't also be kind to the girl who (maybe) got away?
James would do well to maintain his spot in the show as the sweetest singer/songwriter around, especially if Chad is going to be ramping up the jerk in the coming weeks. It looks like there might be an altercation between the two of them, which is pretty hard to believe knowing what we do about James' personality. If there does end up being a fight between the guys, odds are Chad will be the one to come out of it looking worse for wear. James has already proven himself to be almost supernaturally good-humored. And he never called anyone else out on nagging him, either.
Even if James doesn't win The Bachelorette, he's been a pleasant diversion from some of the less pleasant antics of the other guys. He definitely earned himself a nice vacation away.