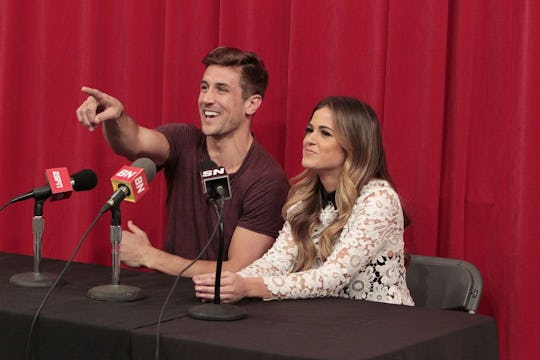 Rick Rowell/ABC
What Has Jordan Rodgers Been Up To Since 'The Bachelorette' Ended? He's Taking It Easy
Though JoJo's season of The Bachelorette has only just premiered, filming started and ended weeks ago. Contestants of reality shows tend to stay silent until the show starts airing to avoid revealing any spoilers, but that still leaves them with a block of time between the end of filming and the premiere of the show. They've got to be doing something with that time besides sitting on the couch and counting down the days until they get to see themselves on TV, right? (Though sitting on the couch sounds pretty sweet to me.) And one of JoJo's suitors in particular has been drumming up some offscreen drama. What has Jordan been up to since The Bachelorette stopped filming?
Social media is the best place to look for post-filming updates, and Jordan Rodgers has been pretty active in the week since The Bachelorette premiered. Most of Jordan's tweets and Instagram posts center on the show, which is no real shocker – gotta drum up that promo! But a couple of Instagram posts revealed that Jordan has spent at least some of his time on a family vacation, enjoying the outdoors and picking up tiny sharks with his bare hands. You know, as one does.
Jordan has been enjoying family time in Hilton Head, an island off the coast of South Carolina. It's a small island, only twelve miles by five miles, and it's known for all the usual resort luxuries: gorgeous beaches, golf and tennis, lots of restaurants, and tiny sharks that you can pick up with your bare hands. While it doesn't seem like the other Rodgers brother was in attendance, Jordan was joined by his brother Luke, his brother's girlfriend, and his parents. Seems like a pretty nice way to unwind after what's sure to have been a hectic season! Of course, Jordan wasn't accompanied by any telltale girl that might provide an answer about the outcome of the season – that would be just a little too obvious.
Jordan has also been receiving Instagram attention lately for some romantic drama that wasn't caught on camera. After claiming in the first episode that his football playing got in the way of his relationships, his ex girlfriend Brittany Farrar (a personal trainer and friend to Olivia Munn, girlfriend to Jordan's brother Aaron) took to Instagram to dispute it. She captioned a gif of Chris Pratt with the following: "🌹Riding the bench doesn't get in the way of a relationship, but cheating does. #yourpitchisntperfect @jrodgers11 #alwayswantedtobefamous #dreamscometrue #tuneinnextweekformoreBS 😝 @bachloretteabc."
Yikes.
It definitely adds to rumors that Jordan is not quite as nice as he seems, but while I'm sure no one is blown away by the idea that someone on reality television wants to be famous, it would be pretty sad if JoJo pinned her hopes on another guy who ended up not being right for her. There's no way to know for sure until that final rose, however, so fans will just have to wait and see how everything turns out.