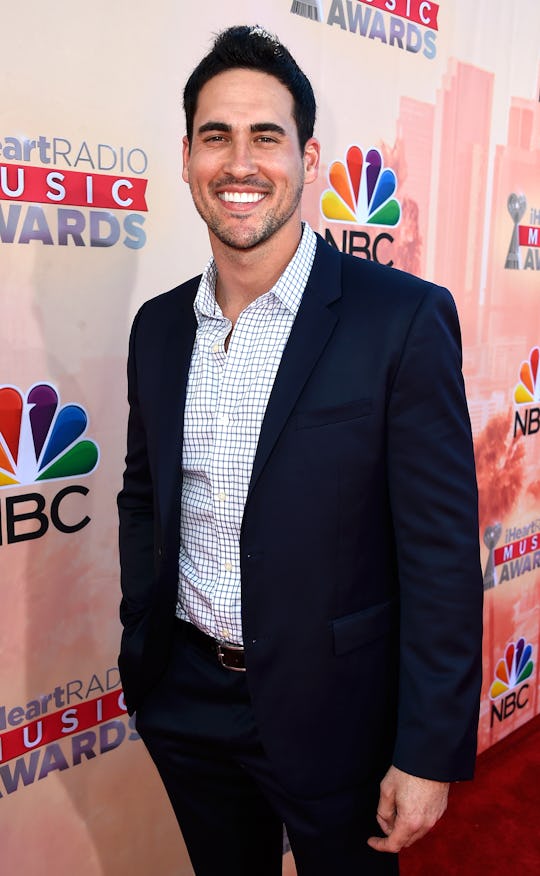 Frazer Harrison/Getty Images Entertainment/Getty Images
What Has Josh Murray Been Up To Since 'The Bachelorette'? He's Still Reality Show Dating
Although he won Andi Dorfman's season of The Bachelorette, Josh Murray would later go down in history thanks largely to the tell-all Andi's penned after their vicious breakup. The couple only lasted a few months after their on-air engagement, with Andi revealing in her book It's Not Okay that Josh allegedly slut-shamed Andi for hooking up with other guys on her season of the show. This led to multiple issues and the couple eventually split. So what has Josh Murray been up to since The Bachelorette? It seems like he hasn't really gotten rid of the reality TV bug. (Romper reached out to Josh's representation for comment on the allegations in Andi's book, but did not receive a reply at the time of publication.)
Update: Josh has responded to the request for comment. His statement is as follows: "How is one supposed to comment on a fictional novel? It saddens me and is very unfortunate that Andi has chosen to characterize me in such a negative way. I respect the private relationship we had for those 8 months and I choose to go through life building others up, not tearing them down. I wish her nothing but the best in her new career and I pray she finds peace and happiness in her life."
It was recently confirmed that Josh would be joining Chad, Lace, Ben Higgins' twins Haley and Emily, and sworn frenemy Nick Viall on this season of Bachelor in Paradise. Unsurprisingly, he's already been quoted defending this season's most indefensible contestant Chad.
"I don't like judging anybody, especially seeing them on TV and even in real life," he told People of JoJo's villain. "You can be a saint, the best person in the world and do the best things and just be a great overall person, and there's always going to be people who hate you or don't like you for some reason."
But BiP is Josh's second reality show this summer alone. In June, he appeared on E!'s Famously Single, which is sort of like Celebrity Rehab, except for celebs who serially fail at relationships. He spent eight weeks working with a therapist and in group settings to unpack why he was struggling to find love. The verdict? Josh told Glamour:
What I definitely need–and I knew I needed before—but I know now more than ever is somebody that is just a nice person. Just nice to people. A loving person who is nice to their family as well and is open to having a family; somebody who loves kids. Somebody who is just sweet, loving, thankful. Honesty is a huge thing. I think that is the basis for any relationship—just being honest. Somebody who is just a real person that doesn't have their own agenda of trying to do something else other than being themselves. It's pretty basic to be honest with you. It's very basic, but sometimes it's amazing how sometimes there aren't those kind of people out there, so I've got to just be very careful, I guess.
Yup, Bachelor in Paradise is definitely the place to find all those things. Solid self-care move, bro.