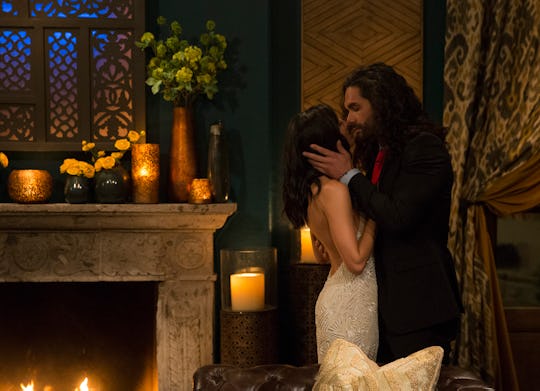 Paul Hebert/ABC
Here's Where You Can See 'Bachelorette' Contestant Leo's Stuntwork
Becca Kufrin has the great pleasure of hosting more than one man bun-owner on her season of The Bachelorette, but Leo helpfully let his mane of wavy brown hair down as he stepped out of the limo to help us differentiate between them all (along with an icebreaker line about "letting our hair down" this season). The low-key dreamy stuntman from Los Angeles definitely made an impression on Becca, but what has Leo been a stuntman in? The Bachelorette contestant has a robust iMDB page.
Leo's full name is Leandro Dottavio, which is how he's credited in his acting and stunt work. It looks like he's trying to shift into the big leagues from his humble beginnings, but "stuntman" is definitely a more Bachelor franchise-friendly career than "actor," which screams "here for the wrong reasons." Leo has been working since about 2011 and he actually has some legit credits to his name, unlike the slew of Bachelor/Bachelorette contestants who come in every year with a list of cable reality show flops and/or student film credits. Leo, on the other hand, has done stunt work on Frankie Shaw's new critically acclaimed Showtime comedy SMILF, American Horror Story: Cult, and Academy Award-nominated film Moneyball. He also appears to have had a recurring role on a show called Fight of the Living Dead, and acted in an episode of You're the Worst.
It's no wonder, given his pretty impressive acting resume, that Leo knows how to work it on camera. His effortless hair tossing and smoldering gaze are all reality TV gold. The camera loves him and Leo appears to have no trouble leaning into that. This could definitely set him apart on a show where guys who tend to be more nervous, introverted, or shy, but are otherwise perfectly nice, can fade into the background — not just on camera, but with Becca herself.
We've seen contestants (though typically women on The Bachelor) implode with nerves before, spinning out and acting in ways they later say were completely out of character for them. It's pretty clear that the grueling shooting schedule and ever-present cameras can have a detrimental effect on people who aren't used to being on a TV set or in an entertainment environment. Leo, however, has plenty of experience in the field, so he stands at a distinct advantage to keep it together in tough moments and look great while doing it.
Then again, maybe Becca will be drawn to a more folksy guy. She has plenty of glitzy athletes to choose from on her season — probably a result of production rewarding her for her tumultuous experience last season and the fact that she's super tall — but Becca is ultimately a midwestern girl with strong family ties. Maybe one of the shyer, more nervous guys will intrigue her more than guys like Leo, who very clearly know how to turn on the charm.
He even knew how to finesse the fact that he's in entertainment on a show where that could be perceived as opportunistic. In Leo's Bachelorette introduction video, he says that stunt work gives him "an avenue to stay in shape," and that's why he does it. Ugh, so smooth. We also learn that he played baseball in college at Cal State Stanislaus and hasn't cut those lustrous locks for ten years. And, as he said in his limo entrance, the man knows his way around leave-in conditioner. Whether or not Becca finds any of this attractive in the long run remains to be seen, but I honestly think Leo has potential to go far.