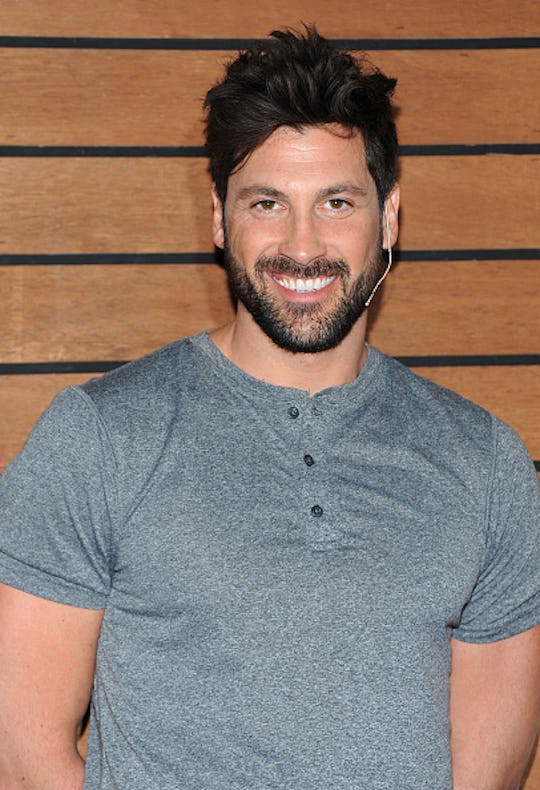 Desiree Navarro/WireImage
What Has Maksim Chmerkovskiy Been Up To Since 'Dancing With The Stars'? He's Been Busy
Maksim Chmerkovskiy returns on Monday as a guest judge on Dancing With the Stars where he is judging not only his brother, Val, but also his fiancée, Peta Murgatroyd. Monday's episode is switch-up week, meaning that though Val usually dances with Ginger Zee, he will be paired with Jodie Sweetin for this week. And Peta Murgatroyd will be paired with Doug Flutie instead of Nyle DiMarco. It's bound to be a tough judgement, but it's good to have Maks back. If you're wondering what Maksim Chmerkovskiy has been up to since Dancing with the Stars, you're not alone. He's been quite the busy guy.
Maks is a Dancing with the Stars veteran, having competed on the show many times, with celebrity partners including Hope Solo and Kirstie Alley. Though he was a fan-favorite, Maks only won the competition once, with partner Meryl Davis in the show's 18th season. Maks broke hearts when he announced after his win that he would be quitting the show in 2014. He and his brother were heartthrobs pretty much everyone, so losing one half of the Chmerkovskiy duo was definitely a blow to the Dancing with the Stars fandom.
So, what has he been up to since quitting Dancing with the Stars? It turns out that this star has been quite busy.
Maks owns a chain of dance studios called Dance With Me, that he stated he planned on expanding upon his departure from the show. And it looks like he's done just that, recently opening up another studio in the Midtown neighborhood of New York City. He now owns seven Dance With Me Studios, most in the New York and New Jersey area, with one in Southlake, Texas. The studios offer private and group classes, and while they focus on ballroom dancing, they also offer classes in everything from hip hop to contemporary.
But the dance studio has not been Maks's only project. In early February, Maks announced plans for a live tour with his little brother Val, which will be kicking off this June. The tour, called Maks and Val: Our Way, will answer the very important question: who is better looking? At least, that's the joke the brothers made to People magazine about the tour. (If it's anything like the Julianne and Derek Hough's tour, it's going to be very entertaining.)
Maks also took time to provide the choreography for fellow Dancing with the Stars alum, Zendaya for her music video for the song "Neverland", from the hit Broadway musical, Finding Neverland.
Even though he's kept pretty busy since leaving the show, it looks like there may still be a soft spot in his heart for Dancing with the Stars, especially now that he is coming back, this time as a guest judge. Now, it's just a matter of seeing if he proves to be unbiased with so many connections to those on stage.