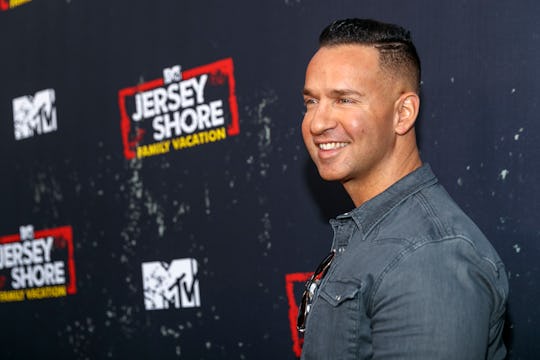 Rich Polk/Getty Images Entertainment/Getty Images
Mike "The Situation" Sorrentino Has Been In The Spotlight Quite A Bit Since 'Jersey Shore'
A lot has changed for the cast of Jersey Shore since the show went off the air, as the trailer for Jersey Shore: Family Vacation makes abundantly clear. Many of the cast members have kids now and other responsibilities to deal with, though the promo hints at at some legal trouble for the artist formerly known as "The Situation." So what has Mike Sorrentino been doing since Jersey Shore that could have gotten him into such a serious (forgive me) situation?
Mike has never really left reality TV behind. After his tenure on Jersey Shore was over, he followed it up with a series of appearances on different shows, including (but not limited to) Dancing with the Stars, Celebrity Big Brother, Marriage Boot Camp, and Worst Cooks in America. You might have even caught him and his sister in an episode of Say Yes to the Dress. Mike landed a show dedicated entirely to his family too, which was called The Sorrentinos. Considering how steady his TV work has been since Jersey Shore ended in 2012, his return to MTV feels more like a detour than anything else.
Mike has expanded outside of television, too. He's the co-author, along with Chris Millis, of the 2010 book Here's the Situation: A Guide to Creeping on Chicks, Avoiding Grenades, and Getting in Your GTL on the Jersey Shore. In addition, he has a workout DVD entitled The Situation Workout, in case you're after a few more of his tips and tricks.
But if The Situation has been so successful, why does the JS: Family Vacation promo make it seem like he's about to go to prison?
Mike has dealt with some difficulties in his personal life. According to People, Mike and his brother Marc Sorrentino were indicted for tax evasion, which is likely where the courthouse clips in the trailer come from. The first indictment came in 2014 for "tax offenses and conspiring to defraud the United States after allegedly failing to properly pay taxes on $8.9 million in income." More charges followed for tax evasion, as well as structuring and falsifying records.
People initially reported that Mike and his brother would plead not guilty on their various charges, with Mike's lawyer Henry E. Klingeman saying that he would "vigorously contest the allegations in court." However, according to Forbes, Mike and his brother Marc did eventually plead guilty to one count each of tax evasion and one count of "aiding in the preparation of a fraudulent tax return," respectively. They will be sentenced on April 25 of this year.
While asking for a fair sentence, Mike's lawyers Klingeman and Kristen M. Santillo said, in part:
Today, Michael Sorrentino has come to terms with mistakes he made at a very different and tumultuous time in his life. He deeply regrets his failure to pay his taxes, and has spent the past several years turning his life into something positive. He has been sober for two years, counseled other young people facing life's stresses, and has built a stable, loving relationship with his girlfriend Lauren Pesce, who stands by his side. The plea terms call for a balance between punishing the wrong committed and conditions that facilitate Mike living a productive, law-abiding life moving forward. Following through on this plea agreement, Michael intends to pay restitution before sentencing.
The statement referenced the other major struggle in Mike's life, which was his sobriety. He spent time in rehab shortly after Jersey Shore and had been in recovery until he relapsed in 2015 when his doctor proscribed painkillers for a cracked rib. Mike has since become sober again, which is something that's sure to come up on the newest season of Jersey Shore (particularly with all the partying that seems to be going on around him).
Mike has kept busy since Jersey Shore ended, and viewers will get to catch up with him when the show returns.
Check out Romper's new video series, Romper's Doula Diaries:
Watch full episodes of Romper's Doula Diaries on Facebook Watch.