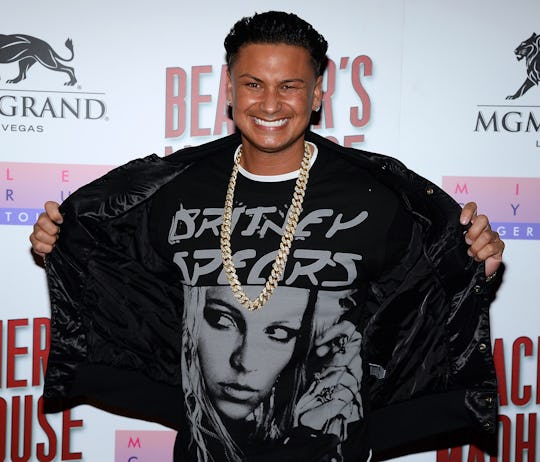 Ethan Miller/Getty Images Entertainment/Getty Images
Pauly D Has Kept Himself Busy Since His 'Jersey Shore' Days
MTV has finally answered our prayers: Jersey Shore is returning after a six year break. On Jersey Shore Family Vacation, most of the original cast members, like Paul DelVecchio — better known as Pauly D — are returning. But what has Pauly D been doing since Jersey Shore? He has, unsurprisingly, been doing some DJ'ing and making a lot of reality TV appearances.
It's safe to say that quite a bit can change in six years for anyone, and the Jersey Shore cast is no different. For example, Snooki is now a mom and Mike "The Situation" plead guilty to tax evasion (seriously). Pauly has had his fair share of headlines recently as well. Right after the show ended, he toured the country as a DJ and even had a spin-off show. The Pauly D Project was one of two Jersey Shore spinoffs to air on MTV; the other was Snooki and Jwoww (I know, really original show title). While Snooki and Jwoww lasted four seasons, The Pauly D Project was a one and done type deal.
But Pauly D wasn't done with reality TV after his own show was canceled. He then appeared on Famously Single, which is when celebrities (that term is used pretty loosely, apparently) who happen to be single move in the same house together and canoodle and couple up — not totally unlike Bachelor in Paradise. On Famously Single, Pauly met Aubrey O'Day, who was a member of the girl group Danity Kane back in the day. If you're unfamiliar with the band name, you probably know the song "Damaged" (it is a total jam).
The two weren't just an item on the show; they dated afterwards. "We thought Famously Single was so much while we were in it, but when we got out of it, we realized we're really starting completely over," Aubrey told E! News about her relationship with Pauly last June. "We were still strangers by the end and now we live together. We had to find ways to communicate where we weren't offending each other or triggering each other."
In the same interview Pauly said, "I never communicated so much in my life." Pauly revealed that not only was his relationship with Aubrey his first serious relationship, but that he learned a lot from her. "If you have a problem with your partner, don't assume," he said. "Just ask them and tell them how you feel because most of the time it's not really what you think. You'll find out that it's not and you can always work through anything."
They seemed completely smitten, and Aubrey was even talking about getting married to Pauly. As it turns out, though, the couple wasn't meant to be. Aubrey and Pauly D broke up in July 2017 after a year and a half of dating (and a month after their interview where Aubrey said they may get hitched).
There's not too much else out there about the details of their relationship as of now or why they ended up calling it quits, but seeing as Family Vacation is coming up soon, this could easily change, so be sure to stay tuned. I'm sure when Jersey Shore ended, Pauly had no idea what the future had in store for him. One thing is for sure, though: he's been through a lot since the original series came to a close, and I'm excited to see where he goes next on Family Vacation.
Jersey Shore Family Vacation kicks off on Thursday, April 5 at 8 p.m. EST on MTV.
Check out Romper's new video series, Romper's Doula Diaries:
Watch full episodes of Romper's Doula Diaries on Facebook Watch.