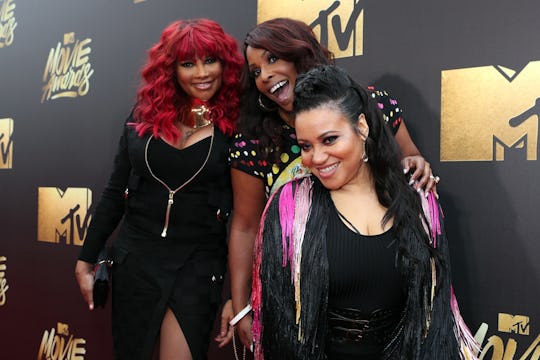 Christopher Polk/Getty Images Entertainment/Getty Images
What Has Salt-N-Pepa Been Up To? The '90s Girl Group Has Had Serious Success
The fact that the song "Shoop" has become popular again because of its inclusion in the hit comedy Deadpool can either make you feel very old or very happy to know that, well, you still got it when it comes to singing along to pop rap songs. During Sunday's MTV Movie Awards, the hip hop trio performed the song live just after Ryan Reynolds accepted his award for best comedic performance for the movie. But what has Salt-N-Pepa been up to? Surprisingly, a lot.
Their last big album, Very Necessary, was released in 1993 and includes most of the hits you probably forgot you know, like "Shoop," "Whatta Man," and "None of Your Business." They won a Grammy in 1995 for "None of Your Business," making them the first female rap group ever to win one. They've released a few "best of" albums, the last one in 1999, when they went on tour.
Shortly after though, Cheryl James, or Salt, had had enough and quit the band in 2000, according to The Source. Each of the women went and did their own thing for a bit. You might remember that Pepa, whose real name is Sandra Denton, was on the fifth season of VH-1's Surreal Life. If you need a summer read, she also wrote a book in 2008 about her life called Let's Talk About Pep, with forwards and epilogues by Queen Latifah and Missy Elliot, respectively. DJ Spindarella works in radio on KBT 100.3 in Los Angeles for and currently DJs off and on. Her daughter was on an episode of VH-1's Sweet Sixteen, too.
But the trio has gotten back together for special occasions, too, like this year's MTV Movie Awards, and an old-school hip hop tour in 2011 with peers like Naughty By Nature, Slick Rick, MC Lyte, and Big Daddy Cane, among others. They've done various appearances together on shows like the X-Factor and a Geico commercial in 2014. In 2007, Salt and Pepa did a reality show on VH-1 for two seasons documenting their everyday lives, but without Spindarella.
If all of this is making you a little nostalgic or feeling like you need to brush up on your hip hop history, the "first ladies of hip-hop," as The Source called them, is now embarking on a tour celebrating nineties hip hop (which is the best kind, of course). They're touring across the entire country throughout the summer, so if you can't afford Beyonce tickets, you can most definitely still get your fix of empowering women taking over a stage this year. Because, whatta band, whatta band, what a mighty good band. (I couldn't help myself.)