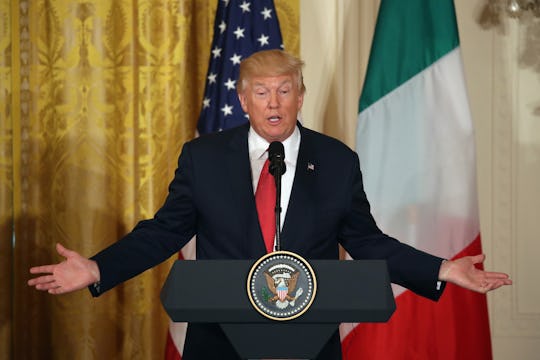 Mark Wilson/Getty Images News/Getty Images
What Has Trump Accomplished In His First 100 Days?
Saturday, April 29, will mark the first 100 days of President Donald Trump's administration. But he already doesn't believe he will get the credit he deserves for his work so far, and he took to Twitter to call out the media for not acknowledging his accomplishments, days before the milestone will be reached. To be fair, what has Trump accomplished in his first 100 days in office? He's already followed through on a few promises, but has fallen short on others.
According to Politico, in late October, Trump issued a contract with voters that covered a "100-day action plan to Make America Great Again." NPR reported that it included things like a constitutional amendment imposing term limits on every member of Congress, allowing infrastructure projects such as the Keystone Pipeline to progress, replacing the deceased Supreme Court Justice Antonin Scalia, and a full repeal and replacement of Obamacare.
Although Trump has accomplished some of what he set out to do in his first 100 days, a new poll released Thursday showed voters have expressed their disappointment with Trump's first three months in office, according to TIME. Possibly in an attempt to head off criticism, Trump took to his favorite medium for communication — Twitter — on Friday morning to say that the 100 days marker is a "ridiculous standard."
"No matter how much I accomplish during the ridiculous standard of the first 100 days, & it has been a lot (including S.C.), media will kill!" Trump tweeted early Friday. TIME reported that "S.C.", in this case, seemed to reference Trump's choice of Neil Gorsuch being confirmed to the United States Supreme Court.
Politico reported that this statement is "a notable shift from his campaign rhetoric," and TIME agreed that Trump's usual move is to plug his accomplishments and boost his achievements. The tweet posted Friday appeared to reverse tactics on that front.
In his first few months in the White House, what has Trump accomplished in his role as the 45th president? Politico reported that the Keystone XL pipeline and a temporary hiring freeze on all federal workers are both goals Trump has met in his first 100 days in office.
CNBC broke down Trump's 100-day agenda, laying out what he has and has not accomplished since he took office. The outlet reported that the White House has noted Gorsuch's confirmation and Trump's executive orders on cutting regulations or fixing trade relationships as highlights of Trump's presidency so far.
However, as CNBC reported, Trump's attempts — made in partnership with Republicans — to repeal and replace the Affordable Care Act failed spectacularly in March.
But, as Politico reported, Trump did pull the United States out of the Trans-Pacific Partnership trade deal, as promised. So he hasn't totally reneged on reversing policies made during the Obama administration.
TIME reported Friday on a new poll asking voters to "grade" Trump's early days in office, and if the results are any indication, he will have to work harder to win over voters after his first three months are up. The Politico/Morning Consult poll released Thursday found that 24 percent of voters gave Trump an "F" grade for the first three months of his presidency, and in his own base, 42 percent of Trump voters graded his first 100 days a "B." Another 23 percent of his voters granted him a "C" rating or below. Yikes.
Trump might be downplaying the importance of his first 100 days in office now, but voters don't seem completely willing to be patient with the new president, or forgiving of what he has and hasn't gotten done so far.