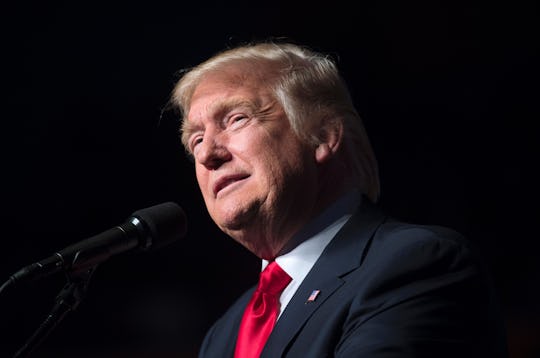 DON EMMERT/AFP/Getty Images
What Has Trump Said About Aleppo? It Continues To Be A Devastating Crisis
The ongoing civil war in Syria continues to be unspeakably devastating. And with recent reports of intensified attacks led by government forces to establish control over east Aleppo, and reports of "scores of civilians" being killed, according to the United Nations, it continues to be important to know how President-elect Donald Trump will address the crisis once he takes office. So, what has Trump said about Aleppo? It's a devastating conflict.
As TIME reported, the world watched as helpless civilians posted heartbreaking videos and messages on social media this past week, sharing good-bye messages as government forces loyal to Syrian President Bashar al-Assad continued to close-in. As TIME cited, one woman named Lina Shamy shared a video recording herself sharing a message from Aleppo on Twitter. "To everyone who can hear me, we are here exposed to a genocide in the besieged city of Aleppo, this may be my last video..." she said.
Back in October, during the second presidential debate with former Secretary of State Hillary Clinton, Trump responded to the following question regarding Aleppo: "If you were president, what would you do about Syria and the humanitarian crisis in Aleppo?" Martha Raddatz of ABC News asked. Raddatz noted that his running mate at the time, now Vice President-elect Mike Pence, once maintained that, "if Russia continues to be involved in airstrikes along with the Syrian government forces of Assad, the United States of America should be prepared to use military force to strike the military targets of the Assad regime," as captured in a video by The Washington Post. Trump said he disagreed.
Trump appeared to suggest that defeating ISIS, as it relates to addressing the crisis in Aleppo, should be the priority. Politico captured Trump's remarks in a transcription below:
I disagree. Right now, Syria is fighting ISIS. We have people that want to fight both at the same time. But Syria is no longer Syria. Syria is Russia and it's Iran who she made strong and Kerry and Obama made into a powerful nation and a rich nation, very quickly, very, very quickly. I believe we have to get ISIS. We have to worry about ISIS before we can get too much more involved. She had a chance to do something with Syria, they had a chance, and that was the line.
Trump's plan to "defeat ISIS" as highlighted on his campaign website, includes the following: "Defeat the ideology of radical Islamic terrorism just as we won the Cold War," and "Pursue aggressive joint and coalition military operations to crush and destroy ISIS, international cooperation to cutoff their funding, expand intelligence sharing, and cyberwarfare to disrupt and disable their propaganda and recruiting."
Trump's transition team has not responded to requests for further comment regarding what Trump thinks about the situation in Aleppo.
According to a Reuters report on Friday, efforts to evacuate civilians in Aleppo were underway on Thursday following a ceasefire deal. Aleppo continues to need the world's attention.