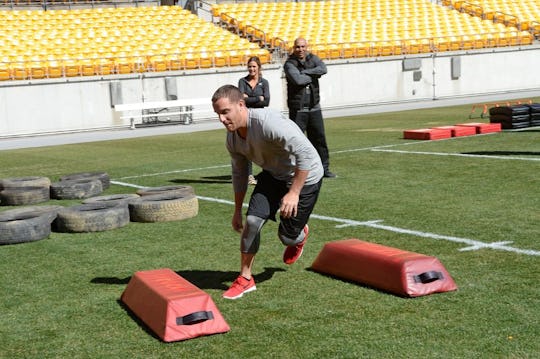 Donald Rager/ABC
What Has Vinny Been Up To Since 'The Bachelorette'? He's Keeping A Low Profile
Vinny hasn't quite stood out from the crowd on The Bachelorette yet, but he still has time to distinguish himself from the other guys – as long as he keeps getting roses. For a quick refresher: Vinny is a barber and a DJ who goes by the name DJ Vinsane, which gets funnier the more times you read it. He's from Florida, though his LinkedIn cites his hometown as Brooklyn. Since The Bachelorette stopped filming, many of the guys have been laying low, but what has Vinny been up to since The Bachelorette?
So far the most interesting thing he's done on the show is tipsily promise JoJo she won't have to "beg for [his] love on the bathroom floor" but it was also the most awkward, so it does not score him points either way. Since filming ended, Vinny has been repping for #TeamVinny on social media, as well as scoring some DJ gigs and hitting the gym. He doesn't seem to be traveling to as many exciting vacation spots as some of the other contestants have int heir free time, but Vinny still appears to be enjoying himself and keeping up with his work. He's also been throwing a little bit of lowkey shade at The Chad, but who hasn't?
Vinny's Twitter doesn't offer much in the way of personal details about him; he seems to prefer re-tweeting other people's Bachelorette commentary. He's definitely doing his best to foster a fanbase on the show, but he has a sense of humor about himself too, especially his premiere episode drunkenness.
Vinny seems to split his time between Florida and New York according to his Instagram bio, DJing at clubs in both Miami and Manhattan. If you want a taste of his music, it can be found on SoundCloud or on his website, which also offers an array of shirts for sale that prove he's really sticking to this Vinsane thing. Though working as a barber might be what he does to pay the bills, it looks like DJing is his passion. The profile on his SoundCloud waxes poetic about his "raw talent for song selection and mixing skills" as well as his love for "rocking the club."
Vinny keeping a low profile outside of his public persona could offer hints about how far he made it in the competition. It's possible he made it so far that he's keeping personal info on lockdown to avoid spoilers, or he didn't make it far enough so he's just moving on with his life. Either way, it looks like Vinny is back to business as usual without the show.