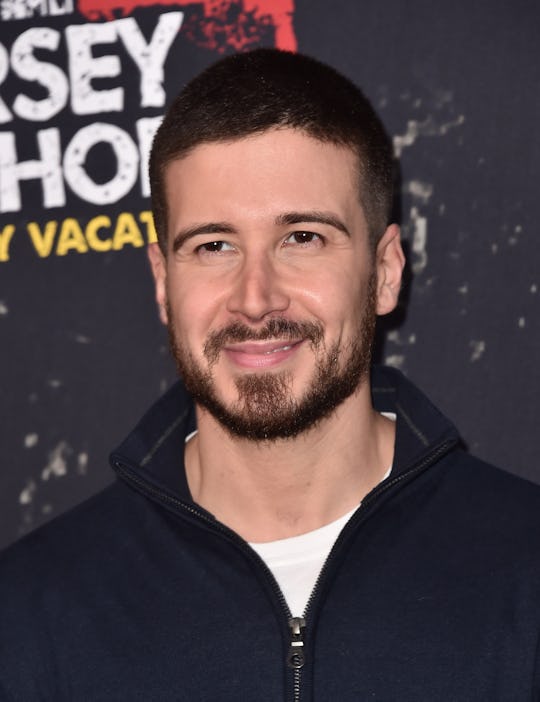 Alberto E. Rodriguez/Getty Images Entertainment/Getty Images
Vinny Guadagnino Looks A Little Different From His 'Jersey Shore' Days
Vinny was never the most outrageous member of the cast of Jersey Shore, but instead was known for his relatively level-headed responses to the other cast-members' drunken antics. Now that the show is getting a reprisal, you might be wondering if he's changed at all. What has Vinny Guadagnino been doing since Jersey Shore? Well for one thing he now appears to be sporting abs that could rival The Situation's, and he's definitely been staying in the spotlight.
The Jersey Shore revival, Jersey Shore: Family Vacation takes Snooki, JWoww, The Situation, Pauly D, Angelina, Deena and Ronnie to another beach house, but this time in Miami instead of New Jersey. While most of the cast seems to have toned down their acts, I have a feeling there will still be plenty of personality in the house. From a purely physical and shallow perspective, the first thing I noticed when I saw recent pictures of Vinny was that he seems extremely trim. That is no accident. Apparently Vinny is a dedicated adherent of the strict "keto" diet, which is low carb, moderate protein, and high in fat. He now runs an Instagram account in which he calls himself the "Keto Guido," inspiring others to lose weight on the program. And I must say, it definitely seems to be working.
But getting in peak physical shape is hardly the only thing that Vinny has been up to since first appearing on the show. I don't know if you're aware (I certainly wasn't) but Vinny is an actual author. Published in 2013, Vinny's book, Control the Crazy: My Plan to Stop Stressing, Avoid Drama, and Maintain Inner Cool, was co-written by Samantha Rose, and details how Vinny manages to stay chill in the very un-chill situations of the shore house. But in addition to writing books, as many of his former roommates have done, Vinny has also worked hard to maintain a steady media presence.
Launching a short-lived acting career, Vinny appeared in a few different shows throughout the years (outside of Jersey Shore). He played "Cousin Vinny" in the MTV show The Hard Times of RJ Berger and had a small role in 90210 that he starred in for two episodes. And that is hardly the end of Vinny's on-screen career. He hosted his own MTV talk show, The Show with Vinny, in which he interviewed celebrities in his own home. Vinny also had a show with his mother Paola on the Cooking Channel called Vinny and Ma Eat America, in which the mother and son duo traveled around the country eating.
Of course, these days — with Vinny's very specific diet — he's not going to be able to throw whatever deep-fried deliciousness is available into his mouth. But at the very least he looks great, and he assures fans that he still eats his mom's pasta on Sundays, he just can't eat pasta every day anymore.
I do feel pretty strongly that Vinny is going to have to break the diet just a little bit for the newest Jersey Shore show. I say this because I very much doubt the plan allows for lots of alcohol and what would Jersey Shore be without gallons upon gallons of mixed drinks and shots chugged while listening to a dance remix of whatever pop song happens to be popular on the radio at the time? It's what fans are tuning in for and I very much doubt they'll be disappointed. Let the partying commence!
Check out Romper's new video series, Romper's Doula Diaries:
Watch full episodes of Romper's Doula Diaries on Facebook Watch.