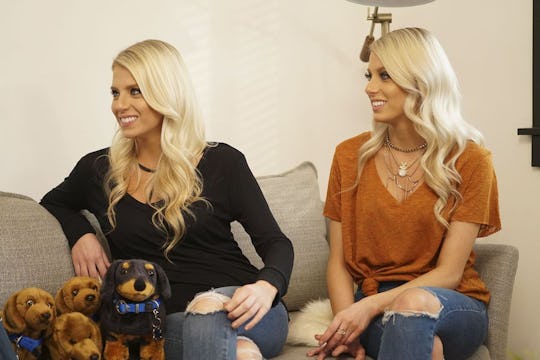 Freeform
'Bachelor' Alum Twins Haley & Emily Ferguson Have Been Keeping Busy
I have good news everyone. Your favorite set of twins is coming back to Paradise to give televised love another go. I hope you're all as excited as I am. But before viewers welcome them back into the Season 4 fold, what have twins Haley and Emily Ferguson been doing since Bachelor in Paradise Season 3? Well, fans didn't have too long to miss them, since they also got their very own spinoff show on Freeform, just like Ben Higgins and Lauren Bushnell.
The Bachelor twins Haley and Emily captured America's collective heart with their goofiness on Ben Higgins' season of The Bachelor. They did not win his love in the end (would he have been allowed to propose to both of them?), but they did win the love that really matters: the love of Bachelor Nation. This led to their first appearance on Bachelor in Paradise Season 3, where they truly leaned into the dumb blonde stereotype. It was silly and amusing, which is all I've ever wanted from Bachelor in Paradise. Now, the twins are back in Paradise to hopefully shake up some relationships and potentially be treated as two separate people. Though that's doubtful, to be honest.
But it hasn't been that long since they've been on TV. The twins were last seen hanging around their new pad in Los Angeles with Ben Higgins on their very own spinoff show.
After their season of The Bachelor wrapped up, Ben and his new fiance Lauren appeared on their own spinoff show called Happily Ever After? with the cruelest question mark in television history. Emily and Haley, as fan favorites, made several appearances on that show, and then showed up on Bachelor in Paradise. Neither of them really found love and they eventually left the resort, but they were great fun while they were there. Afterwards, they got their own show on Freeform called The Twins: Happily Ever After?
Their show followed the two of them around as they moved to L.A. and into their own home for the first time. They admitted that before moving out, their mom did all of their cooking and laundry. In an interview with Glamour, the twins said that now that they've moved out of their mom's place, they're growing up. When asked what happily ever after looks like now, Haley said:
Finding something we're good at. Our career is something that we want to do for the rest of our lives. We're trying to figure out who we are and be comfortable in our own skin. I think the most important thing is taking that leap; in this case, it's moving to L.A. and living on our own for the first time.
I don't know if they ever found their passion job-wise. Maybe it's just being on reality TV. Regardless, I'm eager to have them back on the island and stirring up drama.