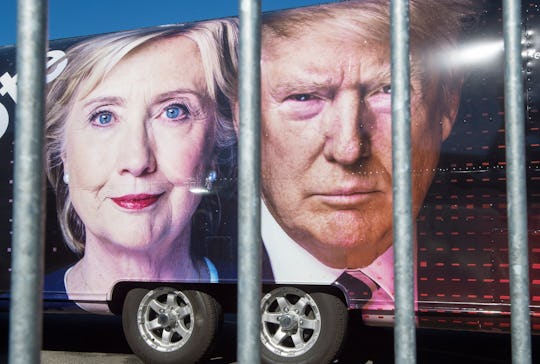 PAUL J. RICHARDS/AFP/Getty Images
What Hillary Clinton Has To Do To Beat Donald Trump In The First Presidential Debate
On Monday night, Hillary Clinton and Donald Trump will face off in their first presidential debate, and for all those hoping that the country doesn't fall into the (tiny) hands of a megalomaniacal former reality TV star, the anticipation is nerve-wracking. With the polls narrowing, it's crucial that Clinton pull off a decisive win. But the question of how Clinton can beat Trump in the debate is much trickier than it seems.
Part of Clinton's problem is the matter of expectations. Nobody expects Trump to be able to talk articulately about the nitty-gritty of policy. Even his own campaign has concerns about his ability to stand still and not get bored for 90 minutes. The bar is so low that if he's able to pay attention, speak in complete sentences, and act like a poised human being, many will consider him to have done an amazing (or tremendous, or very classy) job.
In contrast, expectations dictate that every word out of Clinton's mouth be solid gold, as well as totally truthful and maybe even funny to boot. She's been prepping for the debate for months, although she's had a hard time finding a Trump stand-in to practice with, since the real guy is so unpredictable.
Clinton has to do about a million things (backwards and in heels) to win the debate, but here are a few of the most important:
Convey how much more qualified she is without coming off as condescending
As The New York Times points out, the first presidential debate between Al Gore and George Bush bore some similarities to Monday's contest. Gore clearly knew his policy inside and out. Expectations were very low for Bush. But then Gore kept shaking his head and rolling his eyes when Bush said something he considered stupid, and all of a sudden, everyone thought Gore was a jerk. We all know how the 2000 election turned out...
Avoid stooping to Trump's level
As Michelle Obama said in her glorious speech at the DNC, "When they go low, we go high." Trump revels in insults. While Clinton probably has plenty of nasty stuff she wants to say to him, she'll do best to take the high road.
Lay the email scandal to rest
Somehow, voters still think that Clinton is less trustworthy than the man who reportedly used charity money to settle his lawsuits and buy a six-foot-tall portrait of himself. The repeated emphasis on her email scandal has something to do with that trust gap. If she can finally offer a satisfactory response, perhaps voters can start focusing on other things, like which candidate is actually qualified for the job.
Hammer Trump on the details
In primary debates, Trump floundered when asked to talk details on policy, or current events, or pretty much anything not having to do with himself. Clinton should do her best to highlight that.
Call Trump out on his lies, especially if the moderator won't
As a Vox headline recently claimed, "Donald Trump lies. All the time." He's hoping that debate moderator Lester Holt won't fact-check his claims. Hopefully Holt will, but if not, Clinton shouldn't let him get away with whoppers.
Then of course there's the litany of things she needs to consider, as a woman, that Trump doesn't have to worry about. She shouldn't yell, she's got to smile but not be too nice, and she has to wear something classy yet fun, flattering yet comfortable. No big deal!
Oh, and she absolutely should not talk about the size of her sexual organs. Only Trump's allowed to do that.