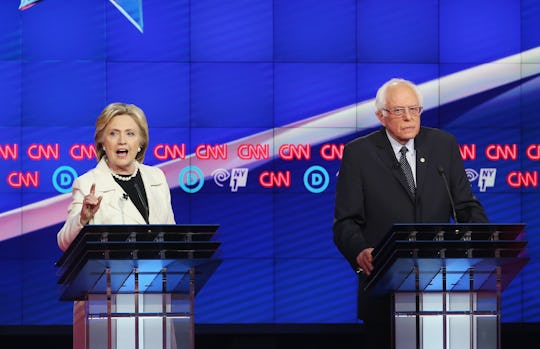 Justin Sullivan/Getty Images News/Getty Images
What If Bernie Sanders Supporters Refuse To Support Hillary Clinton? It Could Get Messy
The final days of the primary election are here. With only a few states left to vote in the month of June, by July we should definitely know who the Democratic nominee will be. As the Democratic race comes to a head, and former Secretary of State Hillary Clinton's lead in the delegate count over Vermont Sen. Bernie Sanders becomes clearer, most of the electorate will generally start coming to terms with the fact that Clinton will face off with Republican rival Donald Trump in November. But what if Sanders supporters refuse to support Clinton?
As it turns out, that is becoming a more than likely scenario, as Sanders most stubborn supporters have been incredibly vocal about their distaste for Clinton and the delegate system as a whole.
But first, some background. In terms of delegates, Clinton currently has 2,312 delegates compared to Sanders' 1,545 delegates. As far as the regular delegate count goes, the two aren't that far from one another. However, with the added superdelegates, Clinton surpasses Sanders by a long shot. In order to secure the nomination, the Democratic nominee must have 2,382 delegates to win, putting Clinton just steps away from becoming the nominee.
But just because she might be the Democratic Party's nominee doesn't mean that other Democrats, such as Sanders' supporters, will be on board with supporting Clinton — and many have made it abundantly clear that they won't go down easy.
According to CNN, two separate, unaffiliated leaders of Bernie Sanders supporter bases have told discussed their plans with the news network to implore Sanders' supporters to leave the Democratic Party and call for a political revolution, if Hillary Clinton were to receive the nomination.
While, according to CNN, a recent poll has found that 75 percent of Sanders supporters said they would get behind Clinton in a race against Trump, there is still a good chunk of necessary voters who would not. Another poll conducted by McClatchy-Marist found similar results — 25 percent of Sanders' supporters said they would not vote for Clinton in the presidential election. But in an election with such an extreme Republican candidate, like Donald Trump, Clinton needs all the votes she can get.
According to The Atlantic, the only thing that Bernie Sanders might be able to do to get his supporters to side with Clinton is to show his support for Clinton, once Clinton receives the nomination. With that kind of move, it would potentially unite the party and show Sanders' supporters that Clinton is someone that they can trust. And of course, there are still rumors floating around that Sanders could possibly be chosen as Clinton's vice president. This would be a huge move in getting those necessary Sanders' supporters on board with Clinton, but highly unlikely.
If Sanders supporters refuse to support Hillary Clinton, we're going to hear the words President Trump a lot quicker than we might otherwise imagine. It is absolutely necessary for Clinton to convince Sanders' supporters and the rest of the Democratic Party that she is the best person for the job. And if she can't? All those threatening to move to Canada might need to start boxing up their things ASAP.