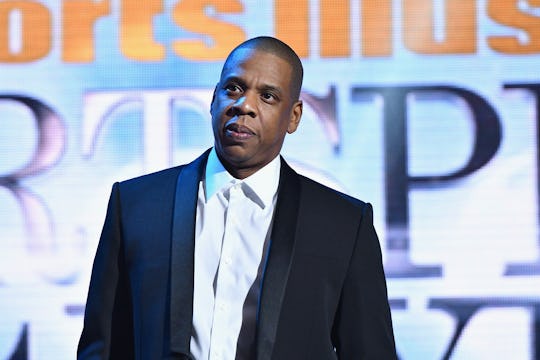 Slaven Vlasic/Getty Images Entertainment/Getty Images
Here's What '4:44' Is About
JAY-Z's released his new album, 4:44, at midnight on Friday on TIDAL. Now that his new project has finally been introduced to the world, people are taking a close look at exactly what topics it covers — and as it turns out, it's a pretty personal piece. What is 4:44 about? Short answer: JAY-Z's life and experiences. Long answer: well, that's a little more complicated.
USA Today reported called the album an "apology tour," and the publication isn't the only one. Forbes called it "a master class on the value of apology," and The Independent reported that he used some of the tracks on the new album "to make a public apology to Beyoncé." I'm sensing a pattern here.
Currently, 4:44 is available only on TIDAL and only to Sprint customers. But Variety reported that the album will be available on Apple Music in a week, so the TIDAL exclusive nature of the album is not exactly permanent. So even if you don't have TIDAL, or you're not a Sprint customer, and you want to listen to 4:44 legally, you really won't have to wait that long to get your hands on it.
According to USA Today, 4:44 is about JAY-Z's fame, his obvious wealth, his upbringing, and, generally, about his experience as a black man in this country. Forbes reported that, on the album, JAY-Z's mother comes out as a lesbian, talks of shooting his brother when he was 12, and seems to fantasize about killing his ego. And People reported that 4:44 is about JAY-Z and Beyoncé and their life together, the good and the bad. So, while everyone seems to agree that 4:44 is a deeply personal album, even the reviews are finding different aspects of the project to focus on, because the subject matter is so very involved.
But apparently, one thing most people can agree on is that there are specific lyrics that clearly reference JAY-Z and Beyoncé's marriage and the family they've created together. In particular, the Independent reported that on "4:44," the title track for the album, JAY-Z raps:
If my children knew, I don't even know what I would do / If they ain't look at me the same, I would prolly die with all the shame / You did what with who? What good is a ménage à trois when you have a soulmate, you risked that for Blue?
Those lyrics, along with several others, seem to refer to infidelity in their marriage that Beyoncé alluded to in Lemonade. Beyoncé's representative has not responded to Romper's request for comment regarding the alleged infidelity, and as of now, there is no proof of any infidelity in the couple's marriage.
iHeartRadio's website actually has an album breakdown from JAY-Z about what every single song on 4:44 is about — although of course, music is subjective and can mean different things to different people. But it's really interesting that we can have a look at what JAY-Z meant each song to be about, and what he wanted to convey with every piece on the album.
And with that breakdown, JAY-Z solved the mystery of where he says the name 4:44 came from. Of the song "4:44," JAY-Z said:
I woke up, literally, at 4:44 in the morning, 4:44 AM, to write this song. So it became the title of the album and everything. It's the title track because it's such a powerful song, and I just believe one of the best songs I've ever written.
And with a career like JAY-Z's, that's an extremely high bar.
Vulture wrote that 4:44 is "a personal rumination on Jay's legacy, his marriage, and black identity," and that's very evident in the lyrics on 4:44. And Twitter is taking notice.
Since the album has been out for several hours now, fans have had a lot of time to listen to the tracks and draw their own conclusions about the message of the music.
"Really diggin 4:44," Twitter user @J_Bachelor tweeted, along with a screenshot of some lyrics from the album. "So much to unpack on this album. This is truly uncharted territory for Jay Z."
And @katleho_seale tweeted, "All media outlets running a story bout Jay Z adultery. BEWARE & DONT BE DISTRACTED. 4:44 is about black enterprise & UPLIFTING black people," to remind people the album isn't all about the rumored infidelity in Beyoncé and JAY-Z's marriage.
So, yes. 4:44 gets personal. Really, really personal. But there are so many different topics covered, and such a wide variety of messages on the album, that reviewers and JAY-Z fans alike have plenty to debate about the project.
But one thing is certain: 4:44 has got people talking, and that's probably exactly what JAY-Z wanted all along.