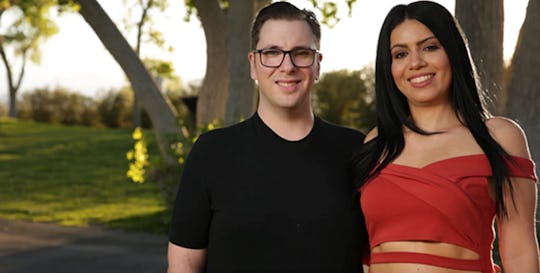 TLC
Colt From '90 Day Fiance' Definitely Has A Lot Of Family Responsibilities
Colt and Larissa are just like all the other couples on 90 Day Fiancé: trying to figure out how to get married within 90 days so they can both stay in the United States together. But when they're not busy filming a reality TV show, Colt and Larissa both have lives that are filled with things like family and hobbies and work. So what is Colt's job? His social media offers some clues.
In the video above, Colt said he enjoys fixing things, and appears to be fiddling around with some electronics. That would make sense, because a quick look at Colt's Instagram account reveals that he describes himself as a software engineer. It's not clear if that's the work he did when 90 Day Fiancé was filming, however.
Colt also seems to enjoy photography, and describes himself as a photographer on his Instagram as well. Plus, a bunch of the images on his Instagram are of drawings that it seems like he did himself. So I think it's safe to say Colt has an artistic side.
But the TLC website description of Colt and Larissa revealed that on the new season of 90 Day Fiancé, "Colt worries that Larissa has the wrong impression of what it means to be American after all of her high-priced demands, while Colt's family worries that Larissa is just using Colt for a ticket into the U.S." Basically, everyone is worried all around about this couple.
Another challenge presented to this couple is that Colt is described as a "mama's boy," and he's apparently pretty used to his mom taking care of him. I mean, if that works for them, I'm not one to judge, but bringing another person into that dynamic could certainly prove difficult. Colt's mom makes his meals and cleans up after him, and even drives him to and from work as he explains in the show.
But then again, the situation may not be as one-sided as this seems. In fact, according to Reality Blurb, Debra wrote on her Instagram page, "I live in Las Vegas with my son & his wife who help me financially since the passing of my husband of 26 years. I like to be on my computer and cook," although I was not able to track down her account myself. So assuming that this is correct, it would seem that Colt and Larissa are not only living together in the U.S., but are also living with Colt's mom. It would also seem that Colt is gainfully employed, since he's helping his mom with her finances.
Whether Colt has a steady job as a software engineer or photographer isn't clear, but he does seem to spend time doing both roles. I guess fans will just have to keep watching 90 Day Fiancé this season to learn more about Colt, Larissa, and Colt's mom — not to mention their many cats that appear in promos and teasers as well as on Colt's Instagram account. Lots of cute kitty cuddling scenes, please, TLC.