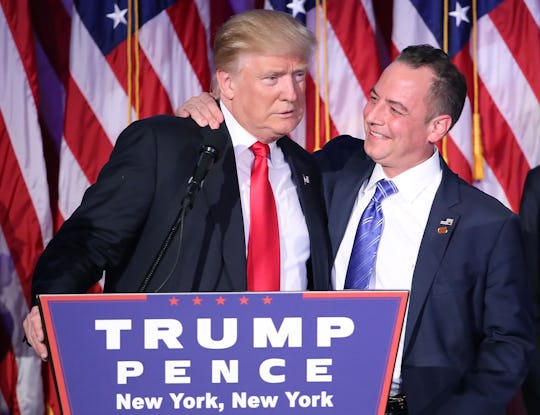 Mark Wilson/Getty Images News/Getty Images
What Is A Chief Of Staff & What Do They Do? Reince Priebus Has A Lot On His Plate
President-elect Donald Trump's staffing of the White House serves as early indicator of the policies that he'll value over the next four years. Naming Republican National Committee's chairman Reince Priebus as his chief of staff shows that Trump is, at least in part, leaning toward party-respected politicians to stand beside him, rather than only opting for political "outsiders" like himself. But what is a chief of staff and what do they do? More importantly, how big of an influence would Priebus have in his new White House role?
Often regarded as "one of the most powerful positions in all of government," the role of chief of staff is absolutely vital in establishing a well-run administration. Advising, strategizing, and supervising are key, both in direct relation to the president and in delegation to the remainder of the White House's staff as well. Ultimately, Priebus will counsel Trump whenever needed, and Trump will (in theory) trust Priebus to follow-through with what was decided upon.
In The Wall Street Journal, columnist William McGurn emphasized the scope and influence of the job, recalling the words of James A. Baker III, Ronald Reagan's chief of staff in his first term:
An effective White House chief of staff must be tireless, fearless and selfless. The job has a brutal work schedule that requires long hours of work. Sometimes days can go by with little more than occasional catnaps. You must have nerves of steel [and] self-doubt is not a good requirement for the job.
McGurn continues, describing the scope and scale of the position: A chief of staff must be detail-oriented yet able to see the big picture; A chief of staff must unite White House staff members who are at times only focused on their own agendas; A chief of staff decides if — and when — to get the president involved in an issue, or if other departments can handle things on their own.
A chief-of-staff makes a lot of the president's decisions for them; It is the chief of staff — and not the VP — who moderates access to the president. Thus, as Trump's right-hand man, Priebus will hold a vital role in the effectiveness of a Trump administration. Supporter, collaborator, and show-runner, Priebus' job will be to handle, well, everything.
Priebus managed to support Trump throughout the election. Even after the recording of Trump bragging about sexually assaulting women resurfaced earlier this year, Priebus noted, "No woman should ever be described in these terms or talked about in this manner. Ever." Priebus, whatever his personal feelings, it seems, still managed to support the GOP nominee after the notorious incident, though he reportedly "told party officials to redirect funds away from nominee Donald Trump to down-ballot candidates" in the aftermath — just in case.
Priebus has emerged, post-election, supportive and proud of Trump's efforts, encouraging collaboration between both Trump and the GOP. "Priebus has served as a negotiator between the party and Trump," CNN noted this week. Perhaps, despite his previously bumpy relationship with the president-elect, Priebus is well-practiced in the job already.