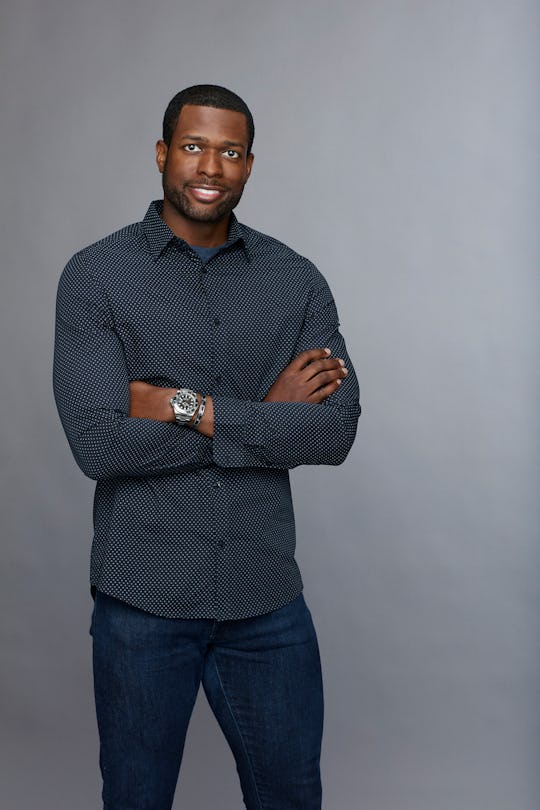 Craig Sjodin/ABC
Um, What Is A Colognoisseur? This 'Bachelorette' Has A Unique Career
Bachelor and Bachelorette job descriptions can often set the tone for an entire season. Remember when Emily and Haley had "Twin" as their official career description? Or the "Chicken Enthusiast" from Ben Higgins' season? Those were pretty out there, but it turns out that we haven't seen it all. This season, one of Becca's suitors calls himself a "colognoisseur, and apparently it's a real thing. So what is a colognoisseur and do they smell like a department store?
Jean Blanc is a 31-year-old from Pensacola, Florida who, according to his ABC bio, works in finance and "continues to add to his very impressive cologne collection." So at least he has a real job, too. In the Facebook Live announcement of all the suitors, even Chris Harrison seemed amused at the idea of a grown man having such a large collection of scents.
"He is a colognoisseur, which means he loves cologne. I don't know if any woman loves to hear that. I don't know... I guess I'll leave that up to Becca to decide, but he has like 250 bottles of cologne," our trusty host explained.
This could either be an interesting hobby — fragrances are kind of cool, right? — or it means that he smells like a prepubescent kid who just learned about Old Spice. We'll have to wait and see what Becca thinks. At least t looks like they're getting along in the premiere, as you can see below.
Jean Blanc is actually an interesting character, all scents aside. His bio also says that he recently moved to Florida, but was born in Haiti and then moved to Boston with his family when he was just two years old. He went to Duke University, which means he's smart, and has a masters degree in business administration. Before Florida, he was working as an engineer in Memphis, so he'll definitely have a lot to talk about on his one-on-one dates.
Just so you know, there are a bunch of guys who have some strange job descriptions. Ryan, who Bachelor Nation met on After The Final Rose, is a "banjoist" which explains why he came out and did a little song for Becca that night. And then there's Kamil, who is a "social media participant," whatever that means. Like, making a career as a social media director or even an influencer is something I could get behind. But aren't we all social media participants? Let's hope he doesn't mean that he's a full-time troll.
There's also 31-year-old Christon, who is a former Harlem Globetrotter, which is actually pretty cool. Maybe he can show Becca some of his moves when he pulls up in the limo.
Hopefully, these guys take themselves seriously, because Becca is for real about her career. According to her ABC bio, she works at a boutique public relations firm called Skyya Communications. It has locations in both Minneapolis and New York City, so she has a little bit of flexibility when it comes to location. Her company's website describes the place as:
An award-winning, full-service PR and strategic marketing communications agency with unparalleled experience serving the communications needs of emerging and well-established technology companies around the globe.
So, Becca's career is at least legit. But if you're worried that a professional cologne sniffer and banjoist aren't worthy of our girl, rest assured: She is officially engaged, according to People. The 28-year-old told the outlet:
I am engaged! It was the happiest moment of my life. And it feels so good to say it. I still pinch myself, like, did that all just happen? It's been a whirlwind.
So at least we know that she finally got her hard earned happy ending. After everything she's been through, it's time she found a guy who respects her. We'll just have to wait and see whether or not it's the colognoisseur.