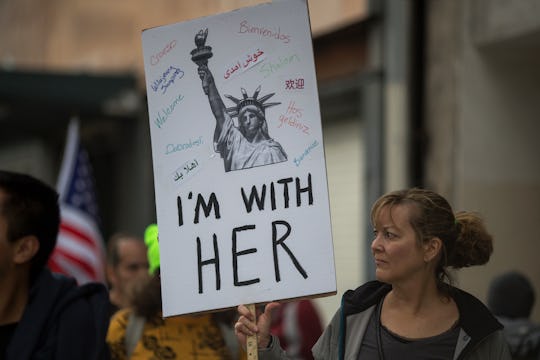 David McNew/Getty Images News/Getty Images
What Is A Deportation Force? It's Un-American
When President Donald Trump gave his first solo press conference last week, he praised himself and his administration for all the "incredible progress" they've made in the first month of his presidency. Like many of Trump's claims, the validity of that statement is questionable, but it's clear that Trump has been focused on trying to implement as many of his campaign promises as quickly as possible. And after memos from Homeland Security Secretary John Kelly appearing to outline sweeping deportation measures were released Tuesday, it seems as though Trump is now preparing to double down on his promise to take a hardline approach against undocumented Americans. What is a deportation force? The memos seem to outline exactly how Trump intends to follow through on his controversial immigration policy.
According to TIME, the memos, which were dated Feb. 17, discussed a plan to expedite the detention and removal of undocumented immigrants in the United States. That included, among other things, a call to "expeditiously hire" 10,000 more enforcement agents and 5,000 Border Patrol officers, to broaden the criteria for who should be considered for "expedited removal," and the expectation that local law enforcement should be involved with immigration enforcement efforts.
According to The Washington Post, the Department of Homeland Security has since said that fears surrounding the memos are overblown, and that Kelly's plan was "not intended to produce mass roundups, mass deportations." But it definitely does appear to be following through on two immigration-focused executive actions signed by the President in January — while also echoing Trump's campaign call for the creation of a "new special deportation task force" meant to "quickly [remove] the most dangerous criminal illegal immigrants in America who have evaded justice," according to Think Progress.
Trump has, of course, made no secret of his desire to crack down on illegal immigration, and in his first post-election television interview with 60 Minutes, he discussed his intention to deport approximately 2 or 3 million undocumented immigrants once he took office, according to CBS News. That has always been a pretty lofty goal — just over 333,000 people were deported from the country in 2015, according to The Washington Post — but if the Department of Homeland Security does intend to follow through on the plan outlined in Kelly's memos, then it seems that not only will there be at least be a sharp increase in deportation, it will be happening at the cost of the kinds of values that were supposed to be central to the country.
One major concern of Trump's so-called deportation force? It leaves a lot of room for who can be defined as a "criminal" or "dangerous." That's because, according to Politico, the memos outline that the arrest of any deportable immigrant who "in the judgment of an immigration officer, [poses] a risk to public safety or national security" should be prioritized — including those who have "abused" public benefits, misrepresented themselves under the law, or even drove without a license. That's not to say that those offenses aren't problematic, but they seem to be a far cry from Trump's claim that his deportation efforts would focus on those posing a serious threat to public safety.
Similarly, the Trump administration's proposed criteria for "expedited removal" is poised to also become much more broad, according to The New York Times. Although this used to apply only to those who were detained within 100 miles of the border and who had been in the country for fewer than 14 days, any undocumented immigrant who hasn't been "continuously physically present" in the country for at least two years, regardless of where they were detained — or even just someone who can't successfully prove it "to the satisfaction of an immigration officer" — can be subject to expedited removal, according to BuzzFeed.
And then there's the call for local law enforcement to intervene in detention and deportation — something Trump has already alluded to in his push back against so-called sanctuary cities. While that might certainly assist the government in their desire to oust as many immigrants as possible, critics say it will just further reinforce racial discrimination. As Omar Jadwat, American Civil Liberties Union Immigrants' Rights Project director, explained to The New York Times:
When you tell state and local police that their job is to do immigration enforcement, it translates into the unwarranted and illegal targeting of people because of their race, because of their language, because of the color of their skin.
Government officials have said that concerns of immediate mass round-ups of immigrants are exaggerated, with one unnamed official telling CNN, "We're not going to start changing this today, it's not going to start happening tomorrow," and arguing that the laws will ultimately be executed "professionally [and] humanely." But that hasn't exactly felt reassuring to those worried they might be unfairly targeted. As Juanita Molina, the executive director of the Arizona-based Border Action Network, explained to The Guardian, prioritizing deportation efforts has meant that life for immigrants — particularly in border towns — is getting tough:
I've had border patrol ask me for my documents just going for a jog by my house. I'd go to get a gallon of milk at the store and have officers stop me and say 'Well, what are you doing?' ... It's almost like it's psychological warfare that's being waged against people of color to create a constant feeling of fear and uncertainty.
Even if you agreed with Trump when he vowed to make the country safer by doing away with the "bad hombres" who posed a threat to otherwise law-abiding Americans, the fact that his immigration policies continually seem to remain vague enough that immigrants who are law-abiding have to be worried should be cause for concern. By continuing to suggest that immigrants — especially those from Mexico and from Muslim-majority countries — are inherently threatening, the Trump administration is ignoring the fact that America is a country built by immigrants, and somewhere that has historically offered refuge to anyone looking to build a better life for themselves and their families. Public safety and border security has, and always will be, an important responsibility for the government, but a Trump-inspired deportation force definitely does not seem like the right way to achieve it.