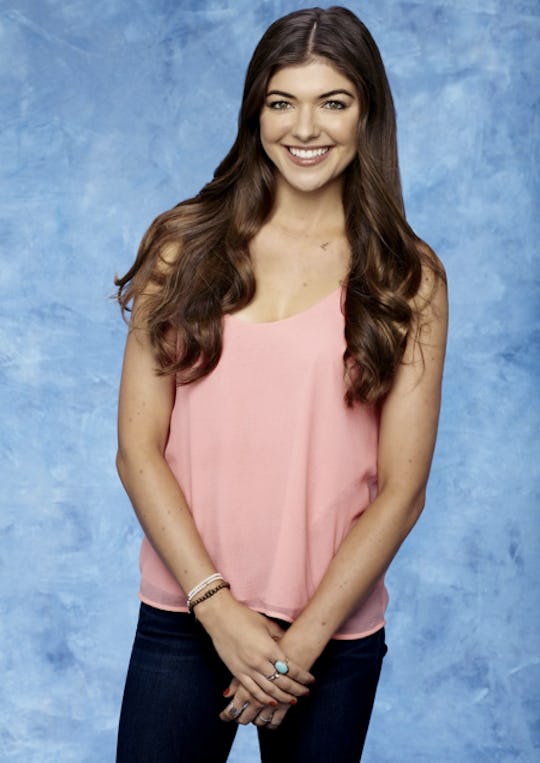 What Is A Gerontologist? Jackie Dion From 'The Bachelor' Chose The Career At The Perfect Time
The Bachelor returned to ABC for its 20th season Monday night. Ben Higgins, who didn't find love on The Bachelorette with Kaitlyn Bristowe, will have 28 women wooing him this season. One of these lovely lasses is Jackie Dion, a 23 year-old gerontologist from San Francisco, California. While the name of the game is to find love and a hubby with whom to share it, The Bachelor contestants of late have been bringing some unique career paths to viewers everywhere. So, what is a gerontologist, Jackie Dion's job, anyway? It's a pretty admirable career path.
A gerontologist, (I had to look it up, people) is a health care professional who works with the elderly, according to the Mississippi Hospital Association. There are all sorts of gerontologists: research gerontologists, applied gerontologists, and administrative gerontologists. These health care professionals may have degrees or training in nursing, psychology, sociology, or other social services-related professions, but a definite must is an affinity for caring for the elderly.
Gerontologists might find themselves working in nursing homes, university settings, hospitals, or elderly advocacy centers. No word yet on where Dion spends her days and exactly what kind of gerontologist she is, but one thing is for sure: she made a wise career choice. According to the MHA Health Careers Center, social services directed towards the elderly are predicted to be a major field in the health community in years to come. In fact, job opportunities in the field of gerontology are expected to rise 36 percent in the next eight years. In other words, employment for gerontologists is going to soar. Gerontologists make anywhere from $28,500 to $55,300 per year. Looks like Dion isn't just an empath, but a smart career-minded cookie, too!
Can being a gerontologist give Dion an edge on the competition? Perhaps. Her career path might help her find common ground with Higgins. According to a Cartermatt.com article that likes to predict how the amorous pairings will go on The Bachelor, "We see right away a few reasons why she could work for Ben Higgins. She is someone who seemingly loves to travel and care for other people, and that also seems right up this alley."
But does this mean Dion knows how to play Bunco? I'm gonna go with, probably.
What else do we know about the gerontologist? Her idea of the ultimate date is "a fun, exciting new adventure followed by a romantic picnic and good conversation," according to her ABC contestant biography. "Then maybe some ice cream."
And when it comes to impressing a man, she's all about showing her adoration through thoughtful arts and crafts. "I would do something really thoughtful for him like create a piece of art or some sort of craft," her bio said. "I think spending time and effort on someone else goes a long way."
But before you make a snap judgment about Dion being too PG to catch Higgins' attention, know that this is also a woman who has said, "I never regret anything." It's pretty rad that Jackie is so firm in her convictions, especially at only 23 years old.
So, thank you, producers of The Bachelor, for turning me (and America) on to a new health profession and social services career. How far into the competition, and into Higgins' heart will gerontologist Jackie Dion get? Fans will have to keep watching to see if the pair hit it off.
Images: Craig Sjodin/ABC; Giphy (4)