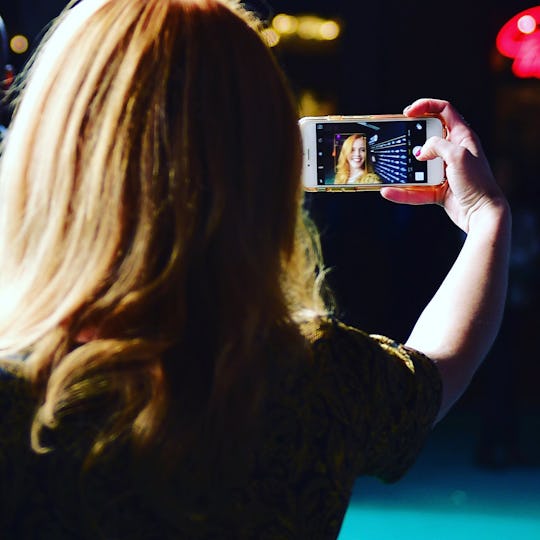 Alexander Koerner/Getty Images Entertainment/Getty Images
Meet The Instagram Selfie Sticker
Instagram recently hit the 200 million user mark for its Instagram Stories feature — a 50 million jump in over three months. To celebrate, the much-loved social media app rolled out new creative tools to take your Instagram Story game to the next level. Although all the new features are a blast to use, everyone seems to love the selfie sticker the most. What is a selfie sticker on Instagram? In the simplest terms, it's a new way you to share gratuitous shots of your face.
In honor of its user milestone, Instagram rolled out four new features for Instagram Stories and Direct messages: the selfie sticker, ability to pin stickers to video, geostickers for four new cities, and a shortcut tool for your favorite stickers. As Instagram wrote on its blog, "it's never been easier to have playful, visual conversations with close friends" with these new updates.
The selfie sticker has been the biggest hit so far. A selfie sticker is just smaller photo of your face onto of your main image. With the selfie sticker tool, you are able to add mini-selfies to your Instagram Story photo or video. That means you can plaster your face all over the screen or even embed your mug into another object. Or recreate some of the better Nick Cage memes out there.
So how does it work? It's relatively easy, especially if you're not new to the Instagram Story game. First snap a photo or take a video. Once you have the perfect image, click on the smiley face icon on the upper right-hand corner of the app. That will pull up a bunch of options, including the camera icon. Press the camera icon and take a mini-selfie. You can change the sticker frame before or after capturing your photo (circle, square, and fade are available so far). The selfie sticker is also adjustable, so you can make it as big and as small as you want — just move your two fingers in or out to change the size. Once you have the right size and position, it's ready to share on Instagram Stories.
Another cool tool that Instagram rolled out is the pin option. You can now pin selfie stickers to your videos. The way it works is simple: tap and hold the sticker, move it over to any object in your video, and confirm its position by tapping "Pin." Once it's complete, add it to your Instagram Story.
You can repeat these steps until you decide on the perfect story to tell (#SeeWhatIDidThere). But don't squander these tools. With great power comes the great responsibility to mess with your friends using the selfie sticker.