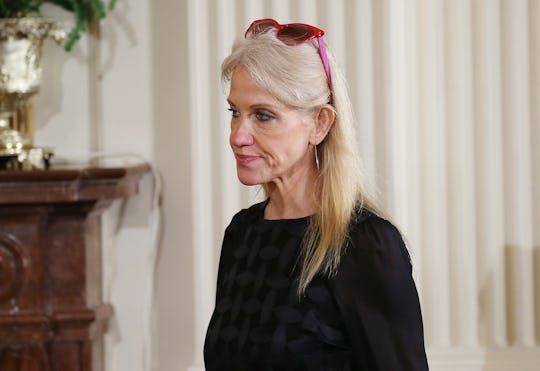 Mario Tama/Getty Images News/Getty Images
The "Triple Standard" Doesn't Actually Exist
According to Kellyanne Conway, counselor to the president, conservative women face a "triple standard" that disadvantages them even more than their liberal peers. Speaking to CBS on Sunday morning, just days after saying she was not a feminist "in the classic sense," Conway said her actions were unduly scrutinized and that she faced a triple standard. But exactly what is a "triple standard?"
"We're constantly going back to where I sat, the presumptive negativity of what I wore or what I said, and I do think it's a triple-standard, I hate to tell you," Conway told CBS. "Well, people talk about the double-standard of what a woman wears, not what she said or what she was doing X, Y and Z. The triple standard is that, you know, conservative women are held to — you know, are just cast aside many times by traditional feminist outlets and individuals who control a great deal of the media."
The thing is, female politicians of all political backgrounds (whether liberal or conservative) face increased scrutiny by the media. Women in politics routinely have their voices, hairstyles, and clothing analyzed in the press (just look at the way Hillary Clinton was criticized for her hair, her suits, and everything in between), and their weight and age are frequently topics of discussion. Female politicians with children also tend to have their availability and commitment to their jobs questioned, while male politicians with children are less likely to face the same scrutiny.
And the thing is, Conway's outfit choices or choice sofa-seating positions have probably drawn less negative attention than President Trump's hair or his skin color has. The recent attention Conway has received has actually largely focused mainly on her words and the work she has done. She defended White House Press Secretary Sean Spicer after he gave false information by saying he provided "alternative facts" — a term that went viral nearly instantly. She also referred to the nonexistent "Bowling Green massacre" several times while speaking with the press, and promoted Ivanka Trump's products on air, despite that being a fairly clear violation of White House ethics codes.
Conway has also been criticized by "traditional feminist outlets" for describing feminism as seeming "very anti-male" and "very pro-abortion" at the Conservative Political Action Conference. (Merriam-Webster hit back on Twitter with the definition of feminism, writing, "'Feminism' is defined as 'the belief that men and women should have equal rights and opportunities.'") Many women also responded negatively to Conway throwing shade at the "black-stretch-pants women of America," because, as Yahoo Style editor Nora Crotty put it in 2015, "The case against leggings is, yet again, an issue of body shaming—and on a greater scale, female shaming."
Conway seems to think that she's unfairly scrutinized to an even higher degree as a woman because she's also a conservative — but chances are, liberal women are zeroing in less on her Inauguration Day outfits and more on her promotion of anti-immigration policies, her disdain for the press, and her work against women's reproductive rights.