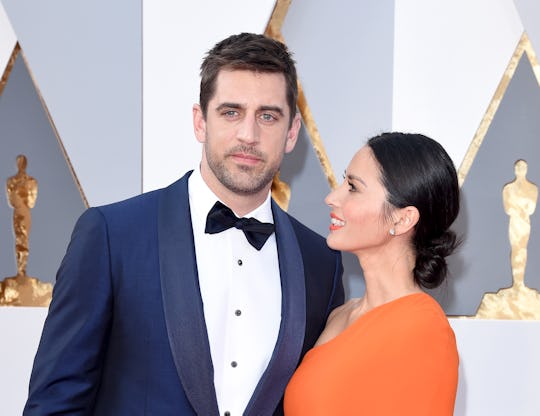 Jason Merritt/Getty Images Entertainment/Getty Images
What Is Aaron Rodgers Up To Now? The 'Bachelorette' Brother Is Staying Silent
Drama is rarely in short order on a show like The Bachelorette. One of the biggest sources of drama on this season was Jordan Rodgers. From the start, rumors that Jordan was appearing on the dating series for the wrong reasons plagued the former pro football quarterback. While Jordan managed to confront and clear up most of those rumors with JoJo, the issue of Jordan's family drama lingered – particularly with his estranged brother, Aaron Rodgers. Going into the hometown date, we knew the Green Bay Packers quarterback wouldn't be making an appearance. But what is Aaron Rodgers up to now?
During his hometown date, Jordan took JoJo back to his high school in Chico, California, to meet his old teachers, cutely joke about going to prom, and generally show her around his old stomping grounds. Everything was going well until JoJo spotted a photo of Aaron on a wall at the school and started wondering about the history of the rift between Aaron and his family. Admittedly, a major falling out with a formerly close family member is a worthwhile red flag to focus on.
Jordan had already given JoJo the heads up back in Week 6 about not meeting his estranged brother Aaron during the hometown date, but the two tell-tale empty seats at the table during JoJo's visit to Jordan's house said everything. Way to play up that awkwardness, ABC.
Overall, the hometown date went well. JoJo definitely vibed with the Rodgers clan (minus Aaron). Disappointingly, viewers didn't get the 411 on the Rodgers family drama that drove Aaron away, though the third Rodgers brother Luke did admit to JoJo that Aaron is missed by the family.
It pains both of us not to have that relationship. We miss our brother. We just are trusting that God brings things full circle.
Jordan echoed a similar sentiment in a confessional towards the end of his segment, admitting that he misses his brother and wishes he could have introduced his maybe-fiance to Aaron as well.
So, what was Aaron doing while his family was talking about missing him on national TV? He was thinking about eating steak in Tahoe, apparently.
Aaron tweeted wondering whether there was a Sizzler in Tahoe, California, where he's set to compete once again in the American Century Championship, a celebrity charity golf tournament held there annually. The tournament is taking place July 22-July 24.
Given that he's kind of busy at the moment, nobody can really fault Aaron for not tweeting a reaction to his family's private issues being aired out on primetime TV. Besides, how could he possibly respond anyway? None of the Rodgers' hinted at holding a grudge against Aaron, which almost seemed to suggest that the issue was his and his alone. If Aaron has beef with his family, he's definitely not about to start retaliating by talking about it via Twitter. That wouldn't be a good look at all.
The origin of the Rodgers family feud is destined to remain a mystery to Bachelorette viewers, apparently.