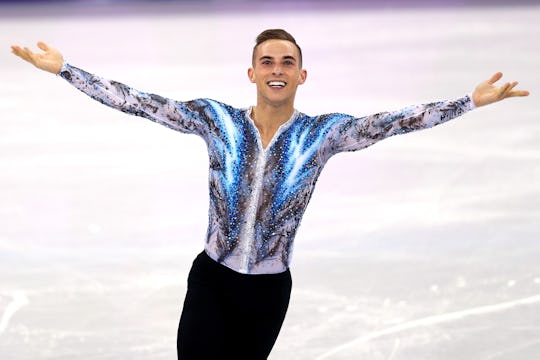 Maddie Meyer/Getty Images Sport/Getty Images
Adam Rippon's Net Worth Shows He Comes From Humble Beginnings
Figure skater Adam Rippon has made quite the splash since arriving PyeongChang. He first gained popularity for being the first openly gay member of Team USA to compete at the Winter Olympics, and he's continued to make headlines. For example, he won a bronze medal in the first week of competition, he's spoken out against Vice President Mike Pence, and his Twitter is a goldmine of hilarious tweets and expressions of pride for the LGBTQIA+ community. As his star continues to rise, fans may be wondering about Adam Rippon's net worth.
Multiple websites estimate that Rippon's net worth is $1.3 million — however, there isn't much evidence to back that up. Not to mention, Rippon has opened up on several occasions about his humble beginnings.
Rippon grew up in Scranton, Pennsylvania, as one of six children to their single mother, Kelly Rippon, according to Good Housekeeping. He began ice skating at the age of 10, and competed in his first competition just a few months later. In order to afford her son's skating lessons, travel costs, and everything else being a competitive figure skater requires, Kelly remortgaged their home. Rippon's five siblings are all still students (two are in graduate school, two are in college, and one is still in high school), and they also love supporting their brother as much as they can. A friend of Adam's brother Brady even started a crowdfunding campaign to raise money to support the five siblings traveling to the Olympics to cheer on Rippon. So even though Rippon did not come from a wealthy background, it's clear that his family did everything they could to support his career.
Rippon opened up about trying to make ends meet as a young adult in a tweet earlier this month:
A little over 5 years ago, I moved to California. I was broke AF, to the point where the little money I did have, I used to join the gym. I would steal all the apples they had out for all the gym members because sometimes I wouldn't have enough $$$ for groceries.
He also told NBC in an interview that he lived in his coach Rafael Arutyunyan's basement when he first moved to Los Angeles to train.
That being said, figure skating is quite a costly sport. TIME estimates a competitive figure skater spends between $35,000 and $50,000 per year, making figure skating one of the most expensive sports. These costs cover coaches, choreographers, other relevant lessons (such as dance or other exercise), costumes, ice skates, blades, travel costs (for the skater, their coach, and sometimes the skater's family), and health care.
However, investing all that money in one's figure skating career can pay off if they make it to the Olympics. When a Team USA athlete wins an Olympic medal, they get to take home a little more than just a round piece of metal on a lanyard. The United States Olympic Committee actually rewards Team USA medalists with cash prizes, according to Forbes. A gold medal earns you $25,000, a silver medal earns you $15,000, and a bronze medal earns you $10,000. Rippon has already clinched one bronze medal in PyeongChang, meaning he'll be flying back to the United States at least $10,000 richer.
Not to mention, Olympians (especially popular ones) often get hooked up with sweet endorsement deals. Athletes like Simone Biles and Michael Phelps have raked in millions thanks to endorsement deals with companies like Under Armour and Wheaties. Athletes can also make a living off of appearance fees, collecting a paycheck every time they give a speech or go on tour with their team. And while not every Olympian is able to snag as many endorsement deals as legends like Biles and Phelps, fan-favorite Adam Rippon is certainly on track for at least an endorsement or two.
Check out Romper's new video series, Romper's Doula Diaries:
Watch full episodes of Romper's Doula Diaries on Facebook Watch.