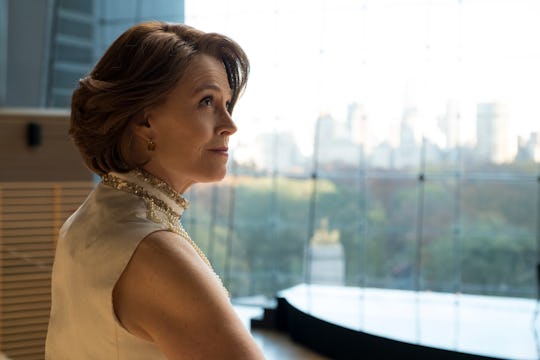 Jessica Miglio/Netflix
Alexandra's Origin Story On 'The Defenders' Is Shrouded In Mystery
The Defenders boasts a brand new villain, one who wasn't seen before in either the movies or the other Netflix series. Played by Sigourney Weaver, Alexandra Reid cuts a stylish and imposing figure while wielding her considerable power to take down the four heroes at the heart of the show. But where did Alexandra come from and how did she get so powerful? What is Alexandra's Marvel origin story on The Defenders?
It's difficult to know much about Alexandra before the show's Aug. 18 debut. One reason for this is that Netflix is keeping most of her story well underwraps, but another reason is due to the fact that she's such a new addition and there's very little to go off of without meeting her officially. She isn't based on any pre-existing comic book character and doesn't seem to have any history in the Marvel universe prior to The Defenders, making her impossible to predict.
But there are a few key details that prove what a serious threat she will be to Matt Murdock, Luke Cage, Jessica Jones, and Danny Rand. Alexandra is working with The Hand, the villainous group who has shown up throughout Daredevil and Iron Fist. She's also after Iron Fist specifically, so perhaps she's a disgruntled fan who didn't quite connect with that series. Kidding, of course.
But no matter where Alexandra came from, she'll be up to something nefarious when fans get their first glimpse of her. Showrunner Marco Ramirez sang her praises to Entertainment Weekly, saying that Alexandra was an "utter badass" played to perfection by Weaver. "Sigourney is the kind of person you can buy as the smartest person in the room, who you can also buy as a person holding a flamethrower," he said. "Her character is a very powerful force in New York City. She's everything Sigourney is: sophisticated, intellectual, dangerous."
Weaver played Alexandra as a businesswoman who has little time for niceties but still views herself as the heroine of her own story. Alexandra has an eye on the bigger picture and it may not matter what she has to do to get there. That singleminded drive could have resulted in her aligning with The Hand sometime before the events of The Defenders. But Weaver didn't want to reduce Alexandra to merely a villain, telling Entertainment Weekly, "I'm not a villain. I'm an adversary." She added:
[Alexandra] has the long game in mind, and she isn't thinking about this chess game, she's thinking about six chess games in the future. As such, [Ramirez thinks] she's seen a lot of beauty in humanity and in the world, but there are certain things that to her are expendable, and that's a really dangerous worldview.
Ramirez echoed that sentiment, speaking of Alexandra as a survivor who doesn't want to destroy the world, but save it and remake it according to her own ideas. That's a common thread with villains in the Netflix Marvel shows, and part of what makes them more compelling. They have their own goals and understandable intentions that are warped by their methods and hunger for power.
Alexandra might be a mystery for now, but she looks like she'll be an interesting one to solve.