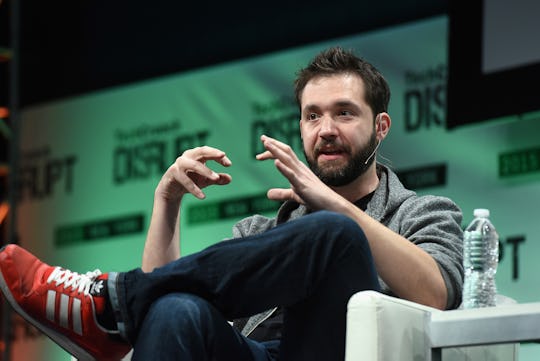 Noam Galai/Getty Images Entertainment/Getty Images
What Is Alexis Ohanian's Net Worth?
After 24 hours of speculation, it's official: tennis legend Serena Williams and Reddit co-founder Alexis Ohanian are expecting their first child together, a spokesperson confirmed on Wednesday. After Williams posted a selfie captioned "20 weeks" to her Snapchat last Tuesday, the newly-engaged couple finally put the rumors to rest to confirm that yes, they have a baby on the way. Given Williams's illustrious sports career and Reddit's tremendous online success, what is Alexis Ohanian's net worth? While the 34-year-old entrepreneur has done quite well for himself, Ohanian is nowhere close to his fiancé's net worth: Serena Williams's net worth is close to $150 million.
According to Celebrity Net Worth, Ohanian's net worth is $9 million, while Slate pegged Ohanian's net worth at just $4.5 million in late 2015. Whether it's $4.5 or $9 million, it's certainly nothing to scoff at, and represents a successful career in the tech industry before he's even turned 40 years old. Perhaps Ohanian's net worth got a boost at the same time his company did, when Reddit successfully raised $50 million in series B funding in 2016, with a staggering $500 million valuation for the "worlds largest water cooler," as Ohanian described Reddit to Fortune that year.
Ohanian is truly a self-made millionaire. After he graduated from the University of Virginia in 2005, he and Steve Huffman, Reddit's CEO, co-founded the news and social aggregation website that same year, with the help of startup incubator Y Combinator; in 2006, Conde Nast acquired Reddit for $20 million, The New York Times reported.
Ohanian didn't come from vast swaths of wealth. In a February post to Reddit, he shared that his mother was an undocumented immigrant from Germany; Ohanian's post was in response to Trump's travel ban that had just gone into place. "My forebears were brave refugees who found a home in this country," Ohanian wrote. "I've always been proud to live in a country that said yes to these shell-shocked immigrants from a strange land, that created a path for a woman who wanted only to work hard and start a family here."
While Ohanian isn't the breadwinner in his family, that doesn't seem to bother him at all — and it shouldn't. Ohanian has a pretty stellar career at just 34 years old. Last year, Fast Company named Ohanian one of the Most Creative People in Business. It's an exciting time to be Alexis Ohanian: He has a wedding and a baby on the way with a woman he truly loves — and that's something that no net worth calculator can put a number on.