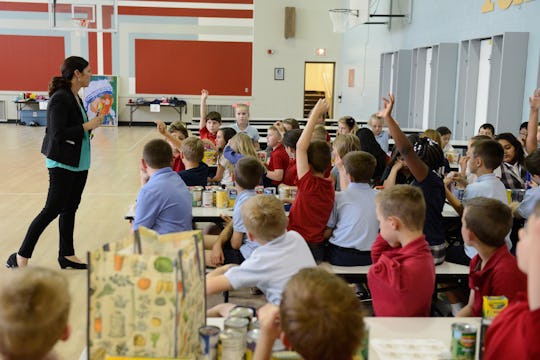 Duane Prokop/Getty Images Entertainment/Getty Images
Public Schools Are Training Kids To Survive Shootings, & Some Parents Aren't Having It
We all have a vague recollection of the high school course material that was thrown at us. Remember those horrifying health courses about our changing bodies and the heavy textbooks for geometry and history? But a class on how to survive gun violence? This last one has required some new instructional material that has some parents concerned. With school right around the corner, you might be wondering what ALICE training is and why your kid is learning about it.
Suffice it to say, curriculum has changed a bit since my day and not all parents are thrilled about its evolution. One parent, in particular, known in the Twitter-sphere as "Buffy the Psych Prof" detailed her daughter's high school orientation experience and expressed her opposition to the active shooter drill training was included in it. As her handle suggests, the concerned mother is a psychology professor and she has some issues about the normalization of gun violence in the United States and how it is impacting students.
In a series of tweets, Buffy explained that her daughter had been trained in the ALICE method of response to active shooter situations: Alert, Lockdown, Inform, Counter, Evacuate. Since its inception in 2001, the ALICE training Institute has educated roughly one million Americans in this form of response.
The ALICE method is the 2001 brainchild of a law enforcement officer who was married to an elementary school principle. In the past 16 years, students and staff members from roughly 3,700 schools across the United States have been taught the ALICE method for instances when someone brings a gun on school property.
The goal of the drills and training is preparedness for a potential active shooter scenario. According to the ALICE Training Institute Website:
Our vision is to empower all citizens with the skills and knowledge to respond when shots are fired. If the police cannot be there in time to help, the next best thing is to prepare our civilian population to help themselves until public safety arrives.
Arguments can be made that such training and drills are a necessary and important part of the modern public school education. Considering the staggering number of school shootings in the United States since 2013 — 233 to be exact — some even applaud such efforts.
The Department of Homeland Security provides its own resources on active shooter situations to help Americans with their vigilance. But for this mom on Twitter, the training was counterintuitive. She states in one of her tweets that the drills do more harm than good:
Now they have an added layer of fear and worry because people have a hard-on for a piece of metal designed to only do one thing: kill.
Several parents and educators have responded to her tweets, sharing their own views on the psychological effects that these drills have on students. One user explained that her child often isn't aware that the experience is a drill and not an actual active shooter situation. Another, an early childhood special education teacher, explained that her students in particular struggle with recovering from the trauma associated with these drills.
Given the number of school shootings that have occurred in the past few years, preventative and responsive actions are clearly needed. Where to best focus those efforts — education, reform, and training — and how to help students confront difficult realities without traumatizing them are difficult and complex questions that the Americans, as a nation, will have to answer.
The sensitive nature of the material being covered in this training gives way to fears, such as Buffy's, of normalizing something truly horrific. By expressing her concerns, Buffy is taking an active role in her child's education. And for that, we thank you for bringing attention to such an important issue.